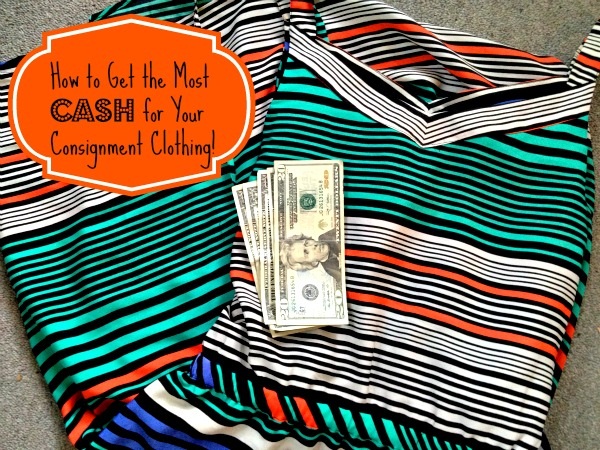 Do you have clothing items you no longer need or wear? If so, it is like having cash just sitting in your closet. You could sell your clothing at a garage sale, but the truth is garage sale shoppers are not usually looking to spend more than a buck or two on clothing. Instead, a consignment shop may be your best choice for getting the most money for your unwanted clothing and accessories. Consignment shops work two ways: some purchase from you outright, and others consign your items, selling them for you and giving you a percentage. The kind of consignment shop you choose to sell at is up to you and how much of a hurry you are in to get your cash. Either way, there are a few things you should know about how to get the most cash for your consignment clothing. A few simple tips and tricks can make a huge difference in how much money you walk away with.
Take a look below at 7 suggestions for how to get the most cash for your consignment clothing!
How to Get the Most Cash for Your Consignment Clothing:
1. Look for labels.
Name brand labels will always get you more money than unknown brands. If you shop at thrift stores or outlet malls, buying name brand items can help you get more cash for your clothes when you choose to sell them. Check the labels on your items and be sure to cash in on those big names.
2. Check the condition well.
All clothing items should have functioning zippers and all of their buttons in place. If any of these items are missing or damaged, you could easily kill a sale. Instead, put a few minor fixes into items to make them like new. Sew on buttons, repair zippers, cut loose threads, etc. By fixing these little flaws you can better sell a piece!
3. Examine carefully for stains.
Items should always be free from stains. If your clothing items have stains, treat and launder them so they are removed. Again, this can make a difference between a shop buying your item or passing on it. Hold all items up to the light and look in natural light to make sure you don't miss a single stain.
4. Eliminate odors.
You could have the most gorgeous name brand dress in the world, but if it smells like cigarette smoke, you won't get a cent for it. Make sure all of your clothing items are free from odor. Laundering them and treating them with a fabric refresher such as Febreeze can help you make sure they are fresh smelling.
5. Don't leave signs of your pet.
You don't want strands of pet hair all over any of your clothing items, so be sure to run a hair removing brush over them to pick up any strands. Consignment shops want your clothing, not tracings of Fido with it. So make sure signs of any pets are removed.
6. Make sure your styles are current.
Take clothing items current with today's trends and styles. Don't take pieces that are more than 5 years old as they probably won't be purchased and you are going through a lot of work for nothing. Take pieces that are fresh and still very wearable with today's fashions.
7. Presentation is everything.
If you drop off your clothing in your take out bag from the previous night's dinner, that may not go over well. Instead, hang your pieces neatly on hangers or fold nicely and place in a clean box or basket. You want the shop to be able to take the items straight from box to shelf. If they feel they can do this, you can cash in for more!
By following these tips, you can make sure you sell more of the items you take for consignment as well as get more cash for those items. These tips are easy and inexpensive to follow as you can see, so give them a try and see what a difference they can make for you!