Smartphones can do so many amazing things including taking awesome photographs. From watching those around me, most of us have started using our smartphones as our main camera. Our smartphones can be great for this but does your phone have enough enough space to handle all the photos you take?
If you are like me, you take way too many pictures on your smartphone. I take so many that I often run out of storage space on my phone.  I don't trust those little memory cards because I had one go bad recently and so many of my photos turned half gray, which I discovered is a sign of a bad memory card. Anyway, I don't really want to take that kind of chance with my precious memories anymore especially since I use my phone as my main source of photography. Then I heard about Amazon Cloud Drive and the awesome benefits of Prime Photos.
How to Use Cloud Storage to Save Storage Space on Your Smartphone
If you are an Amazon Prime member, you have access to amazing benefits including Prime Photos, provided through Amazon Cloud Drive as part of your membership. Amazon Cloud Drive allows you to securely back up and store content including photos, movies, music, and files. Amazon Cloud Drive can be accessed via the internet on your computer, tablet, or phone. If you are an Amazon Prime member, you already have access to the Amazon Cloud Drive with Prime Photos, which provides unlimited photo storage. Unlimited photo storage is quite an amazing benefit considering how much large photo files can be and how many photos we take. Additionally, you get 5 GB of storage space for videos, music, movies, and other files.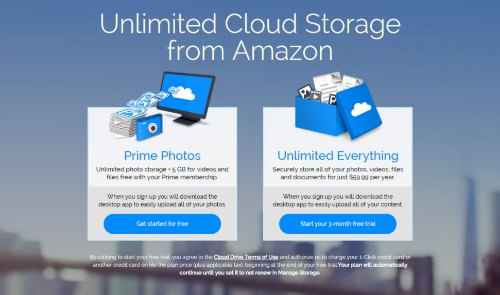 The easier way to get started is to download the Amazon Photo app, which is available for Android and iOS devices. You can set up the app to automatically back up your camera roll, which will free up valuable space on your device. It will also allow you to have access to your photos across multiple devices. I find this to be beneficial when I'm taking photos on my phone but want to access them when I'm on my computer or tablet. The Amazon Photo app makes it easy!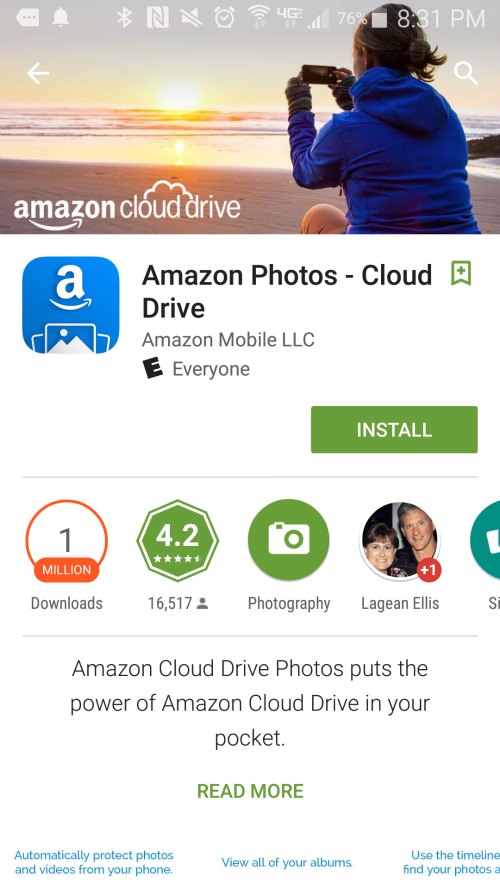 With the Amazon Photo app, you can easily share your photos and files via private links within the app. You can also select a folder or file to be shared using the website on your computer.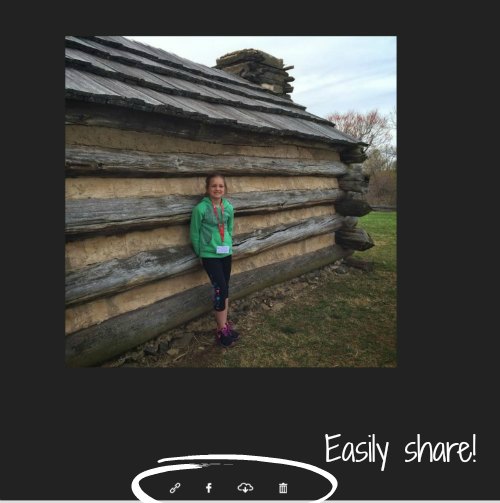 Amazon recently announced two unlimited storage plans, both start with a free 3-month trial:
Unlimited Everything Plan ($59.99 per year—equivalent of less than $5 per month): Store an infinite number of new and existing photos, videos, files, documents, movies, and music in Cloud Drive.
Unlimited Photos Plan ($11.99 per year—equivalent of less than $1 per month): Similar to the Prime member benefit – non Prime members can also store an infinite number of photos in Cloud Drive without worrying about taking up space on phones, cameras, or other devices. This plan also includes 5 GB of additional storage for videos or other documents and files.
Check out the Amazon Cloud Drive today!
Are you running out of space on your smartphone? How do you make sure your photos are backed up?
I was selected for this opportunity as a member of Clever Girls and the content and opinions expressed here are all my own. Read more on my Disclosure Policy.