This is a Sponsored Post written by me on behalf of Wheat Food Council. All opinions are 100% mine.
How Wheat Works is an interactive game from the Wheat Foods Council, to educate users on the value of the nutritional value of wheat. There are four phases to the game: growth, harvest, milling/baking, and grocer's aisle. Each section takes just a few minutes to complete spanning over four days.
First you will register, then you will go through a brief history of Wheat, learn about the types of wheat (I didn't know there were six classes!), and then you will get to choose which type of wheat you want to grow. Kids can also get involved at WheatFoods.org, which might be a good lesson for home schooling parents or enrichment in the classrom.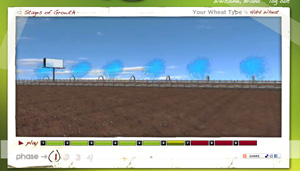 At the end of each phase, you are encouraged to explore further by exploring the type of wheat grown in your own area, viewing harvest videos, or preparing wheat based recipes.  You may just learn something new such as Wheat was planted in the United States first in 1777.
What is really cool about this game, is for every participant, the Wheat Food Council donates 2 lbs of flour to Operation Homefront. Operation Homefront is a non-profit organization that provides assistance to needy US troops and their families.
Go ahead and sign up at How Wheat Works and let me know what you've learned!