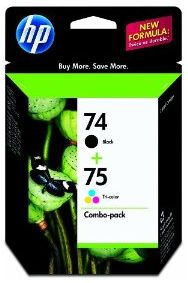 Now on Amazon, you can buy one HP 74/75 Ink Cartridges Combo-Pack in Retail Packaging
and get one for 40% off original price.  Click the box in the middle of the Amazon page that says "One Week Only" to see and select the qualifying products.  This is a good item to stock up on when the price is right.   Be sure to match the numbers from your old ink cartidges so you don't accidentally purchase ink that does not fit your computer printers.
Thanks, Couponing for Four!