Did you know you can save up to 40% on printing with HP's XL ink cartridges? When compared with single, standard HP ink, you can save more on your printing costs with HP's XL ink. The best part is that it fits just like a regular cartridge but holds more ink. I like this for two reasons – I save money with the XL cartridge plus I don't have to change my ink as often. It's so frustrating to find this awesome printable coupon only to get that dreaded low ink warning.
Now that the HP XL ink cartridges are available at Walmart, you can stock up on your in when you buy groceries. Hey, why not save a little on your groceries with printable coupons while you are at it! Purchase in stores at Walmart or at Walmart.com/HPink for great prices. I often print coupons at home with our HP wireless printer, which is awesome to print from a smart phone or tablet too.
I haven't been to Walmart for awhile so I procrastinated a bit for this project but luckily I hit Walmart at just the right time. It was actually a pretty quiet night at my local Walmart. There was way too many options on television tonight like football, baseball, or even the Presidential Debate. I was so happy to shop stress free especially since I had a stack of coupons to use!
Let's take a look at my shopping haul….first I had to print out some coupons from my favorite sources like Coupons.com, CouponNetwork.com, RedPlum.com…
Here's a few of my favorite deals that I found: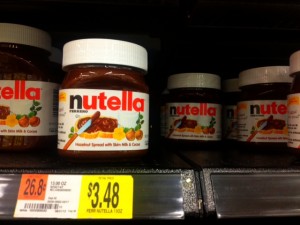 Oh, so many things to do with Nutella like this Nutella pastries – yum!
Nutella – $3.48
$1/1 Nutella Printable Coupon
Final Price: $2.48
Next up – one of my kid's favorite snacks. I scored this $1 off Cheez-it printable coupon from Coupons.com, which is a rare coupon and value to find.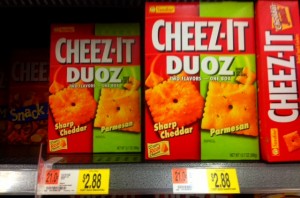 My kids like the Duoz variety.
Cheez-its – $2.88
$1/1 Cheez-its, 9 oz+ printable coupon
Final Price: $1.88
Our stock of fabric softener and fabric softener sheets was dangerously low so finding this $0.50 off Snuggle was great. I would have preferred to use at a store that doubles coupons but Walmart doesn't and this was a somewhat decent price for something we need.
Snuggle Fabric Softener Sheets – $3.47
$1/1 Snugglel
Final Price: $2.97
I'm a huge fan of these UltraPacks – any brand will do. This save us money because my kids don't have to measure out the detergent when they do their laundry. Simply toss in a pre-measured pack. Notice I'm looking up at this high shelf – ha.
Purex Ultra Packs – $2.97
$1/1 Coupon from a magazine
Final Price: $1.97 or around $.10/load! 
I have been wanting to try these Kashi frozen meals for awhile as it's always nice to have a few convenience items on hand. I love all the other Kashi products so these should live up to the rest of the products! There is a $1.50 off 2 printable coupon available right now, which made it just $2.22/each!
It's starting to become lipbalm season – oops for me, that's year 'round. There is a sweet deal on Carmex – just $0.67 after the $0.30 printable or the $0.30/1 coupon from the 10/21/2012 SS Insert.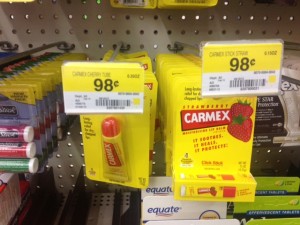 Does it drive anyone else nutso when the product labels aren't all facing the same way. Perhaps, I only noticed because I was taking a picture of the product with the price. Anyway, this was a great deal on Muir Glen tomato paste after $0.50/1 printable coupon – just $0.48.
The HP XL ink we needed for our printer was $22.98, which we will easily recoup with $20 or so of printable coupons used! The kids have also had recent projects they needed to print out papers and pictures for so it's always nice to have a extra cartridge or two on hand.
While, this shopping trip wasn't Extreme Coupon show savings – it is reasonable savings for what we needed and what I had coupons for. This is called couponing realistically (Download my free eBook!) folks and every penny adds up to big savings!
My total shopping bill for these items was $32.92 and there were several items on my shopping list I didn't have coupons for <gasp.> However, these were things I needed. Yes, I needed M&M's as I'm making a monster cookie recipe for Halloween for my son's class next week! :)
How would you like to win a $20 Walmart gift card to stock up on HP's XL ink cartridges? One lucky reader will win a $20 Walmart gift card. Just simply comment on this post and let us know what you use your printer for – printing pictures, coupons, projects, etc?
**If you are reading in an email or a feed reader, you must click over to enter this giveaway. Entries via email are not accepted. Note: Comments are moderated so it may take a couple of hours before your comment appears live. 
Giveaway ends on October 24, 2012 at 9:00 a.m. EST.
Winner will be chosen by random. Be sure bargainbriana@gmail.com is in your safe sender list as you don't want to miss the email if you are the chosen winner. Winner must respond to email within 48 hours or a new winner will be chosen. U.S. Entries only. Alternate entry: Mail a postcard with the giveaway you are entering along with your name, address, and email to PO Box 14, Tipton, IN 46072.
**Please note: The companies have 6-8 weeks to ship prizes.
I received a gift card from Mom Select in order to facilitate this post. This Post was written by me and was not edited by the sponsor.  Read more on my Disclosure Policy.
See the rest of the Giveaways!