This is a Sponsored post written by me on behalf of HUGGIES. All opinions are 100% mine.
I remember being so excited to take my firstborn newborn daughter to Colorado to introduce her to our extended family. You see this side of the family is huge and there are family members scattered all over the country. To make things a little more interesting, we travel to a different location each and every year. I didn't want to miss the reunion in Denver, Colorado and it would be my baby's very first plane trip!
As a new mom, you try to prepare for everything. Packing all the clothes, diapers, wipes, car seat, etc….you get the picture! But I never thought of HOW I was going to change a diaper on the airplane if the situation called for a diaper changing. As a breastfeeding mom, of course it did and it wasn't pretty if you know what I mean! We are talking whole complete new outfit level.
I wasn't sure what I was going to do. Luckily, I had my experienced mother with me and we ended up changing her on our laps because I didn't feel comfortable changing her the airport bathroom. For one thing, I don't think there is nearly enough room in those little tiny closet bathrooms!
New moms are excited and nervous. Lots of excited and lots of nervous. Luckily, I had and still have my mom to ask for input and guidance when I need it! In the above situation, it was calm, patience, and make do with the situation you are dealt. Plus, make sure you are stocked up on baby essentials such as HUGGIES® Little Snugglers Diapers, HUGGIES® Pure & Natural Diapers, or HUGGIES® NATURAL CARE® Wipes which are available at Walmart . You can never have too many wipes – even when your kids are out of diapers!
By the way, we survived flying to Denver, Colorado with a three month old and had a wonderful trip with lots of fun memories that I will treasure forever!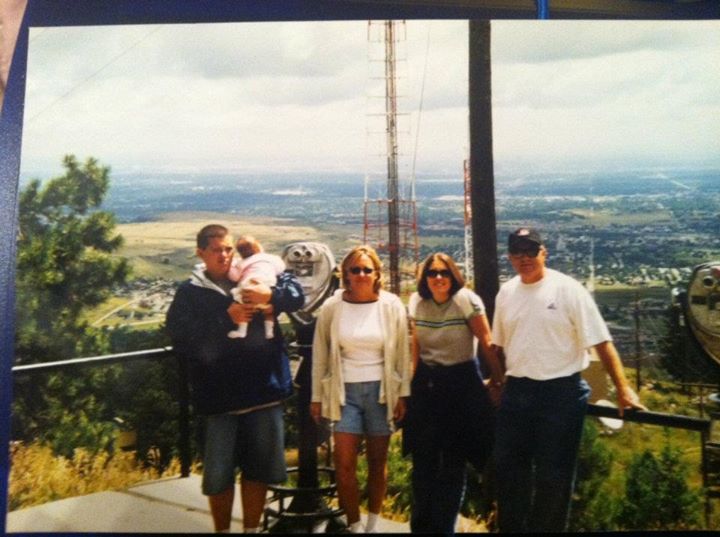 (My brother holding my oldest daughther, mom, me, and dad in Colorado.)