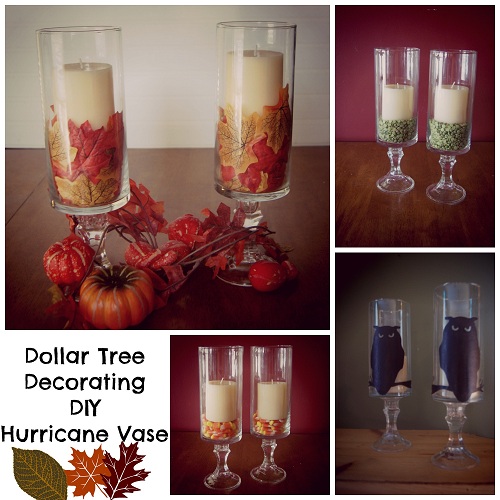 I have seen a lot of beautiful hurricane vases, and yes I have left my drool on a few prettier ones.  Even at the department discount stores like TJ Maxx, and Marshalls they can run as much as $15-$20. I am too cheap *ahem* much of a bargain shopper to pay that when I know I can create something so similar myself for just a few dollars. The Cost for the basic project you ask?  A total of $6.00 for both vases including candles, plus the cost of a small tube of adhesive.  YAY me!  The additional decorations can be changed out seasonally to really make it a frugal project. A trip to Dollar Tree and a few dollars spent can transform your vase to compliment your home décor or the holidays, all items used to decorate were purchased at Dollar Tree.
Supplies you will need:
2 glass flat bottom vases
2 glass taper candle holders
a small piece of sandpaper
liquid nails
Vinegar or alcohol for cleaning glass
Cost- $4.00  for 2 vases, and 2 candlesticks
Wash all 4 glass pieces in hot soapy water, allow to dry. Wash bottom of vase and top of taper candle holders with vinegar or alcohol to remove oil and fingerprints. Dry well with a paper towel.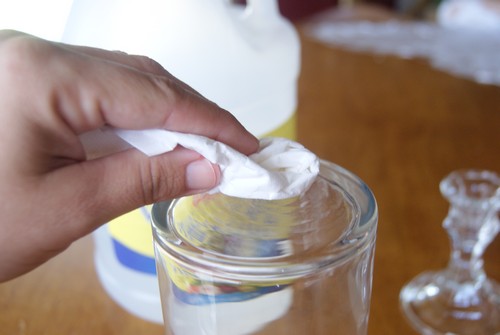 Scrub the tops of taper candle holders with sandpaper to create a rough surface that help glue adhere to both glass pieces; Clean "dust" off candle holder with a paper towel soaked in vinegar.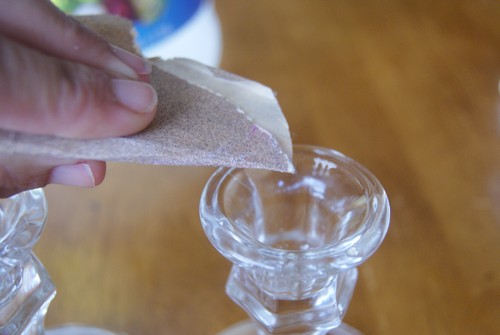 Apply a thick line of liquid nails all around the rim of the taper candle holder. Look from the top to be sure its centered, press your flat bottomed vase onto candle holder.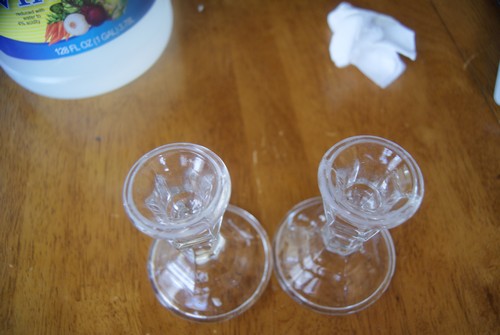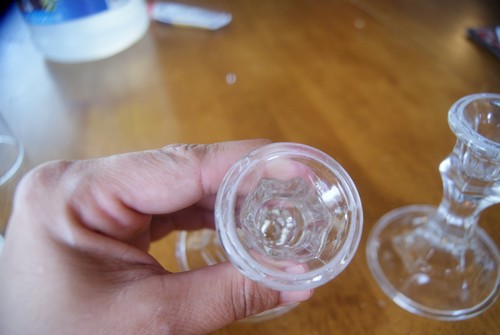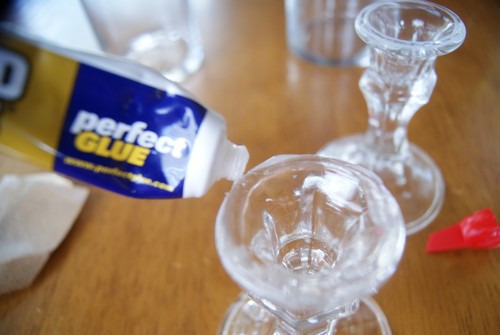 Set aside and allow to set for 24 hours.
Really that's it! Simple right? And for only $2 each plus the cost of a tube of glue. I love being a bargain shopper!
Fall leaf Hurricane Vase
Supplies needed:
1 bag small fall leaves
2 small cans- like mushrooms or olives come in
Hot glue gun and glue sticks
Cost- $1.00 for a pack of silk leaves
Wash can out well in hot soapy water, and dry.
Turn your can over so the opening faces up, apply a thin line of hot glue ½ way around. Working quickly so glue doesn't set press silk leaves into glue on the stem end, with an 1/8" overlap. You want the leaves sticking out of the can. Continue all the way around to cover.  Put a couple dabs of glue on each leaf and press into the can on the outside, do this with each one.  Finish covering the can with leaves, do the rest at angles so it feels more natural.  Place covered can inside hurricane vase, drop a few more leaves between  can and vase. Place your candle on top
Owl Silhouette Hurricane Vase
Paper owl cutouts
White school glue
Water
Paint brush
Bowl
Cost- $1.00 for owl cutouts
You can do this with any paper cutout shape, to create a stunning display for any time of year.  With the lights out and a candle on the silhouette is an even more impressive décor item.
Clean vase to remove all oils and fingerprints. Purchase or create your own modge podge- mix equal parts school glue and water well. For this project I used about 2 Tbsp. each.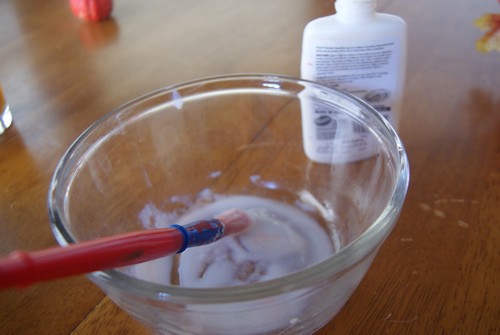 Brush the back of paper cutout completely with glue mixture and apply to desired area of glass. Paint a complete coat over and slightly around paper cutout.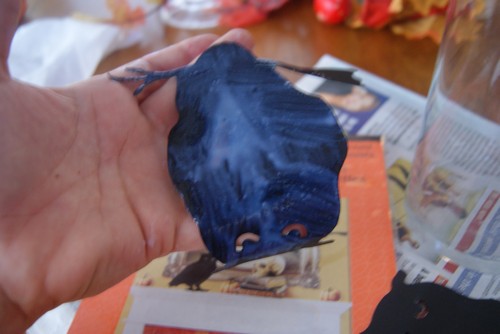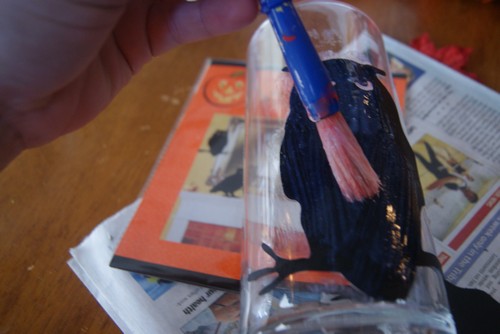 Allow to dry for a few minutes and paint another coat of glue.  This does not dry completely clear on glass,  so while it is still a little wet I take a wet cloth (or Windex wipe) and using my index finger I clean the glue off as  close to cutout as possible without touching- about 1/8" distance.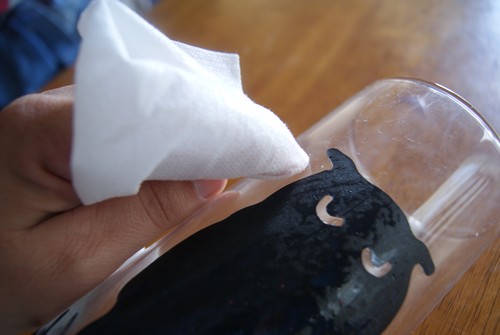 Allow to dry overnight.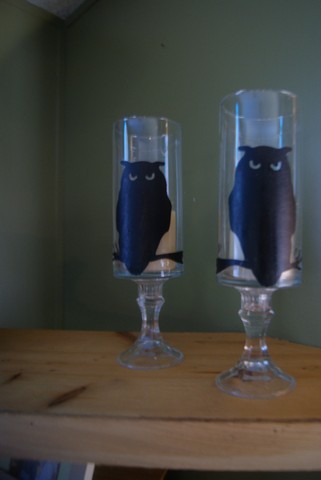 Drop a  candle into your vase, placed in a shadowy corner, when lit will cast beautiful shadows on your wall.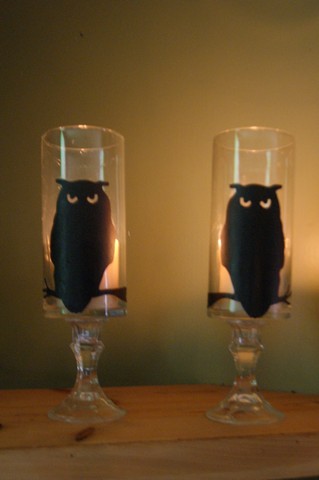 Some more ideas to fill your hurricane vase for Fall:
Coffee grounds
Coffee beans
Black beans
Green or yellow split peas
Acorns
Pinecones
smooth pebbles
rafia
Plastic spiders
Plastic Dracula teeth
You could also purchase peel and stick clings meant for windows and help your child decorate the vase.
Use craft letter stickers or vinyl to create a beautiful initialed design.

Did you enjoy this post? Find more money saving tips here.