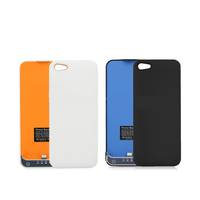 Score this iPhone 5/5S Portable Charging Phone case for just $18.99 shipped! This a great deal and having extra battery life handy is always nice!
The case enables you to double the battery capacity with an extra 2200mAh. This means you can have peace of mind that you will have battery when you need it most. Just charge the Charging case and once the battery of your phone is in the red, press the power button and the reserve charge in the case will start to transfer to your phone. Ideal for those times when you just can't get to plug socket. *Features* * The power pack will extend the battery your iPhone by doubling its charging capacity. * Enjoy your iPhone for voice,music video games and business applications with extended,stable power. * You can experience up to two days or more of interrupted iPhone power,depending on your usage. * Slip it in,show it out!The thinnest power pack for iPhone 5 all over the world! * Totally cover and protect your iPhone 5 from slipping.Eloquent styling-Compliments the Phone profile.
Want to save loads of money shopping online? Check out the latest online shopping deals.