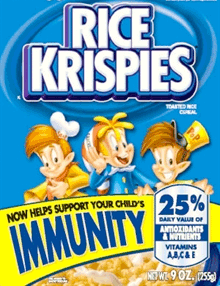 If you bought Rice Krispies or Cocoa Krispies in the U.S. between June 1, 2009 and March 1, 2010, you may be entitled to reimbursement thanks
to a class action lawsuit – the claim is that Kellogg's claimed the cereal boosted immunity without any actual proof and there's now a proposed settlement. Claims must be submitted by Nov. 16, and reimbursement is for $5 per box up to 3 boxes or $15. The class action website with online claim submission is here Biotrue Challenge Sweepstakes.
Thanks, Chief Family Officer!