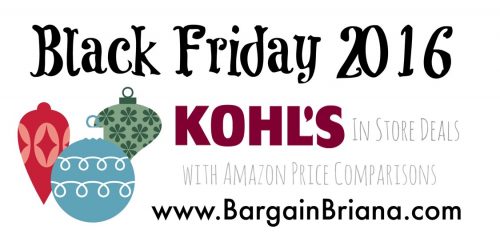 Black Friday 2016 is almost here! We have put together a list of the deals at Kohls Black Friday and compared them to Amazon prices. You will find some of these prices are nearly as low on Amazon already and Amazon's prices will only get better as Black Friday approaches. It might be worth it purchase online even if only a few dollars more instead of fighting the crowds.
An item with an asterisk (**) indicates a Door Buster Item which the ad specifies is available until supplies last or until 1pm on Black Friday.
Kohl's cash is usually $10 on every $50 spent, but is $15 on every $50 spent for Black Friday weekend.
Kohl's Black Friday Sales begin at 6PM on Thursday, November 26th.
Some of the Amazon linked items are comparable models or brands if that specific item wasn't available.
Electronics – Games & Consoles
**Sony PS4 500GB Uncharted 4 Console Bundle — $249.99
Earn $75 in Kohl's Cash
Final Price: $174.99
—- Check Reviews and Compare Prices on Amazon
**Microsoft Xbox One S 500GB Minecraft Console Bundle — $249.99 75KC
Earn $75 in Kohl's Cash
Final Price: $174.99
—- Check Reviews and Compare Prices on Amazon
**Xbox One Wireless Controller — $49.99
Earn $15 in Kohl's Cash
Final Price: $34.99
—- Check Reviews and Compare Prices on Amazon
**PS4 DualShock Wireless Controller — $39.99
—- Check Reviews and Compare Prices on Amazon
**Atari Flashback 7 — $39.99
—- Check Reviews and Compare Prices on Amazon
**Sega Genesis Classic — $39.99
—- Check Reviews and Compare Prices on Amazon
**North Virtual Reality Headset — $9.99
—- Check Reviews and Compare Prices on Amazon (Comparable Product)
**Select Video Games — $19.99
(Items Below Pictured in the Ad)
   Need for Speed Rivals for Xbox One
   —- Check Reviews and Compare Prices on Amazon
   Minecraft for PS4
   —- Check Reviews and Compare Prices on Amazon
   Lego Marvel for Nintendo DS
   —- Check Reviews and Compare Prices on Amazon
Black Series Foldable Gaming Chair — $39.99
—- Check Reviews and Compare Prices on Amazon (Comparable Product)
Electronics – TVs and Media Devices
**Kaier 49″ 4K Ultra HD TV — $249.99
Earn $75 in Kohl's Cash
Final Price: $174.99
—- Check Reviews and Compare Prices on Amazon (Comparable Product)
LG 55″ 4K ULED Smart TV — $499.99
Earn $180 in Kohl's Cash
Final Price: $319.99
—- Check Reviews and Compare Prices on Amazon (Comparable Product)
Samsung 40″ HD 1080p LED Smart TV — $249.99
Earn $75 in Kohl's Cash
Final Price: $174.99
—- Check Reviews and Compare Prices on Amazon (Comparable Product)
Vizio 39″ Full Array LED TV — $179.99
Earn $45 in Kohl's Cash
Final Price: $134.99
—- Check Reviews and Compare Prices on Amazon (Comparable Product)
Hisense 32″ 720p LED TV — $119.99
Earn $30 in Kohl's Cash
Final Price: $89.99
—- Check Reviews and Compare Prices on Amazon (Comparable Product)
Roku 2 Digital HD Streaming Box — $44.99
—- Check Reviews and Compare Prices on Amazon (Comparable Product)
Samsung BluRay Player w/Wi-Fi — $49.99
Earn $15 in Kohl's Cash
Final Price: $34.99
—- Check Reviews and Compare Prices on Amazon (Comparable Product)
Samsung 2.1 Channel Bluetooth Soundbar with Subwoofer — $84.99
Earn $15 in Kohl's Cash
Final Price: $69.99
—- Check Reviews and Compare Prices on Amazon (Comparable Product)
Innovative Technology 40″ Bluetooth Stereo Tower Speaker — $39.99
—- Check Reviews and Compare Prices on Amazon (Comparable Product)
Innovative Technology 37″ Bluetooth Stereo Soundbar — $39.99
—- Check Reviews and Compare Prices on Amazon (Comparable Product)
GPX DVD Player — $19.99
—- Check Reviews and Compare Prices on Amazon (Comparable Product)
Black Series Entertainment Projector — $39.99
—- Check Reviews and Compare Prices on Amazon (Comparable Product)
Electronics – Headphones & Audio Devices
**Sony ZXS10 Series Headphones — $19.99
—- Check Reviews and Compare Prices on Amazon
**Skullcandy Uproar Wireless Bluetooth Headphones — $24.99
—- Check Reviews and Compare Prices on Amazon
**Altec Lansing Mini Life Jacket 2 Rugged Bluetooth Speaker — $49.99
Earn $15 in Kohl's Cash
Final Price: $34.99
—- Check Reviews and Compare Prices on Amazon
**JBL Pulse 2 Splashproof Portable Bluetooth Speaker — $119.99
Earn $30 in Kohl's Cash
Final Price: $89.99
—- Check Reviews and Compare Prices on Amazon
**Victrola 8-in-1 Bluetooth Wooden Music Center — $129.99 
Earn $30 in Kohl's Cash
Final Price: $99.99
—- Check Reviews and Compare Prices on Amazon (Comparable Product)
**Victrola 3-Speed Vintage Bluetooth Turntable — $39.99
—- Check Reviews and Compare Prices on Amazon
Character Headphones — $12.99
—- Check Reviews and Compare Prices on Amazon (Item Pictured)
GPX Bluetooth Karaoke Party Machine — $49.99
Earn $15 in Kohl's Cash
Final Price: $34.99
—- Check Reviews and Compare Prices on Amazon (Comparable Product)
Jam HMDx Classic 2.0 Bluetooth Speaker — $14.99
—- Check Reviews and Compare Prices on Amazon
iHome 5X Double Sided Vanity Mirror w/Bluetooth Speaker — $79.99
Earn $15 in Kohl's Cash
Final Price: $64.99
—- Check Reviews and Compare Prices on Amazon
Electronics – Miscellaneous
**FitBit Alta Special Edition Activity Tracker — $99.99
Earn $30 in Kohl's Cash
Final Price: $69.99
—- Check Reviews and Compare Prices on Amazon
**Fitbit Charge 2 Heart Rate + Fitness Band — $129.99
Earn $30 in Kohl's Cash
Final Price: $99.99
—- Check Reviews and Compare Prices on Amazon
**Garmin Nuvi 58LM 5″ GPS w/Lifetime Map Updates — $89.99
Earn $15 in Kohl's Cash
Final Price: $74.99
—- Check Reviews and Compare Prices on Amazon
**Nest Cam Indoor Security Camera w/1080p HD Video — $149.99
Earn $45 in Kohl's Cash
Final Price: $104.99
—- Check Reviews and Compare Prices on Amazon
**Nest Learning Thermostat — $199.99
Earn $60 in Kohl's Cash
Final Price: $139.99
—- Check Reviews and Compare Prices on Amazon
**HP Deskjet 3634 All-in-One Printer w/Wi-Fi Connectivity — $29.99
—- Check Reviews and Compare Prices on Amazon
Justin Portable 2600 mAh Power Charger — $5.99
—- Check Reviews and Compare Prices on Amazon
Canon EOS Rebel T6 DSLR Camera w/Wi-Fi Connectivity — $449.99
(Includes bag, 18-55mm lens, 75-300mm lens)
Earn $135 in Kohl's Cash
Final Price: $314.99
—- Check Reviews and Compare Prices on Amazon
Sharper Image Rechargeable 2.4 GHz DX-3 Video Drone — $49.99
Earn $15 in Kohl's Cash
Final Price: $34.99
—- Check Reviews and Compare Prices on Amazon
Propel Cloud Rider HD 2.4GHz Quadcopter with HD Camera — $79.99
Earn $15 in Kohl's Cash
Final Price: $64.99
—- Check Reviews and Compare Prices on Amazon (Comparable Product)
Vivitar HD 5.1MO Action Camcorder w/1.8″ Screen — $29.99
—- Check Reviews and Compare Prices on Amazon
Apple Watch Series 2 — $369.00
Earn $105 in Kohl's Cash
Final Price: $264.00
—- Check Reviews and Compare Prices on Amazon
Apple Watch Series 1 — $269.00
Earn $75 in Kohl's Cash
Final Price: $194.00
—- Check Reviews and Compare Prices on Amazon
Kitchen – Small Appliance
**Toastmaster 2-Slice Toaster — $16.99
Submit for $12 Mail-in-Rebate
Final Price: $4.99
—- Check Reviews and Compare Prices on Amazon
**Toastmaster 1.5-Qt Slow Cooker — $16.99
Submit for $12 Mail-in-Rebate
Final Price: $4.99
—- Check Reviews and Compare Prices on Amazon
**Toastmaster 5-Cup Coffee Maker — $16.99
Submit for $12 Mail-in-Rebate
Final Price: $4.99
—- Check Reviews and Compare Prices on Amazon
**Toastmaster Mini Blender — $16.99
Submit for $12 Mail-in-Rebate
Final Price: $4.99
—- Check Reviews and Compare Prices on Amazon
Keurig K55 Brewer — $89.99
Earn $15 in Kohl's Cash
Final Price: $74.99
—- Check Reviews and Compare Prices on Amazon
Keurig K250 Brewer — $99.99
Earn $30 in Kohl's Cash
Final Price: $69.99
—- Check Reviews and Compare Prices on Amazon
Keurig 16-ct to 18-ct K-Cups — $8.99
—- Check Reviews and Compare Prices on Amazon (Comparable Product)
Keurig 72-ct K-Cups — $24.99
—- Check Reviews and Compare Prices on Amazon (Comparable Product)
Hamilton Beach 12-Cup Digital Coffee Maker — $21.99
Submit for $12 Mail-in-Rebate
Final Price: $9.99
—- Check Reviews and Compare Prices on Amazon
Bella Dual Brew Single-Serve Coffee Maker — $29.99
Submit for $10 Mail-in-Rebate
Final Price: $19.99
—- Check Reviews and Compare Prices on Amazon
Cuisinart 14-Cup Coffee Maker — $79.99
Earn $15 in Kohl's Cash
Submit for $30 Mail-in-Rebate
Final Price: $34.99
—- Check Reviews and Compare Prices on Amazon
Cuisinart Coffee Grinder — $21.99
Submit for $12 Mail-in-Rebate
Final Price: $9.99
—- Check Reviews and Compare Prices on Amazon
Hamilton Beach Rice Cooker — $21.99
Submit for $12 Mail-in-Rebate
Final Price: $9.99
—- Check Reviews and Compare Prices on Amazon
Aroma 8-Cup Rice Cooker — $59.99
Earn $15 in Kohl's Cash
Submit for $30 Mail-in-Rebate
Final Price: $14.99
—- Check Reviews and Compare Prices on Amazon
Crock-Pot 4-qt Programmable Slow Cooker — $19.99
Submit for $12 Mail-in-Rebate
Final Price: $7.99
—- Check Reviews and Compare Prices on Amazon
Hamilton Beach 6-Qt Slow Cooker — $21.99
Submit for $12 Mail-in-Rebate
Final Price: $9.99
—- Check Reviews and Compare Prices on Amazon
Tru Triple Slow Cooker — $59.99
Earn $15 in Kohl's Cash
Submit for $30 Mail-in-Rebate
Final Price: $14.99
—- Check Reviews and Compare Prices on Amazon
Bella Stainless Steel Pressure Cooker — $69.99
Earn $15 in Kohl's Cash
Submit for $20 Mail-in-Rebate
Final Price: $34.99
—- Check Reviews and Compare Prices on Amazon
Bella Air Fryer — $69.99
Earn $15 in Kohl's Cash
Submit for $20 Mail-in-Rebate
Final Price: $34.99
—- Check Reviews and Compare Prices on Amazon
Hamilton Beach Quesadilla Maker — $21.99
Submit for $12 Mail-in-Rebate
Final Price: $9.99
—- Check Reviews and Compare Prices on Amazon
KitchenAid Artisan Stand Mixer (Model KSM15OPS) — $329.99
Earn $75 in Kohl's Cash
Submit for $50 Mail-in-Rebate
Final Price: $204.99
—- Check Reviews and Compare Prices on Amazon (Comparable Product)
KitchenAid Classic Stand Mixer (Model KSM75) — $229.99
Earn $45 in Kohl's Cash
Submit for $30 Mail-in-Rebate
Final Price: $154.99
—- Check Reviews and Compare Prices on Amazon
KitchenAid Pro-600 Stand Mixer (Model KP26MIX) — $409.99
Earn $105 in Kohl's Cash
Submit for $50 Mail-in-Rebate
Final Price: $254.99
—- Check Reviews and Compare Prices on Amazon
Ninja Mega Kitchen System — $129.99
Earn $30 in Kohl's Cash
Final Price: $99.99
—- Check Reviews and Compare Prices on Amazon
Ninja Coffee Bar Blender — $129.99
Earn $30 in Kohl's Cash
Final Price: $99.99
—- Check Reviews and Compare Prices on Amazon
Ninja XL Blender — $69.99
Earn $15 in Kohl's Cash
Final Price: $54.99
—- Check Reviews and Compare Prices on Amazon
Nutri Ninja Single Serve Blender w/Auto IQ — $69.99
Earn $15 in Kohl's Cash
Final Price: $54.99
—- Check Reviews and Compare Prices on Amazon
Hamilton Beach 10-Speed Blender — $21.99
Submit for $12 Mail-in-Rebate
Final Price: $9.99
—- Check Reviews and Compare Prices on Amazon
Bella Rocket Blender — $21.99
Submit for $12 Mail-in-Rebate
Final Price: $9.99
—- Check Reviews and Compare Prices on Amazon
Magic Bullet Blender — $59.99
Earn $15 in Kohl's Cash
Submit for $30 Mail-in-Rebate
Final Price: $14.99
—- Check Reviews and Compare Prices on Amazon
Nutri Bullet 800W 6-pc Blender — $79.99
Earn $15 in Kohl's Cash
Submit for $20 Mail-in-Rebate
Final Price: $44.99
—- Check Reviews and Compare Prices on Amazon (Comparable Product)
Hamilton Beach 2-Speed Hand Blender — $21.99
Submit for $12 Mail-in-Rebate
Final Price: $9.99
—- Check Reviews and Compare Prices on Amazon (Comparable Product)
Cuisinart 7-Cup Food Processor — $79.99
Earn $15 in Kohl's Cash
Submit for $30 Mail-in-Rebate
Final Price: $34.99
—- Check Reviews and Compare Prices on Amazon
Hamilton Beach 6-Speed Hand Mixer — $21.99
Submit for $12 Mail-in-Rebate
Final Price: $9.99
—- Check Reviews and Compare Prices on Amazon
Hamilton Beach SmartToast Extra-Wide Toaster — $21.99
Submit for $12 Mail-in-Rebate
Final Price: $9.99
—- Check Reviews and Compare Prices on Amazon
Black & Decker 4-Slice Toaster Oven — $29.99
Submit for $10 Mail-in-Rebate
Final Price: $19.99
—- Check Reviews and Compare Prices on Amazon (Comparable Product)
Hamilton Beach Toaster Oven — $19.99
Submit for $12 Mail-in-Rebate
Final Price: $7.99
—- Check Reviews and Compare Prices on Amazon
Cuisinart 6-Slice Stainless Steel Toaster Oven — $79.99
Earn $15 in Kohl's Cash
Submit for $30 Mail-in-Rebate
Final Price: $34.99
—- Check Reviews and Compare Prices on Amazon (Comparable Product)
Hamilton Beach Electric Can Opener — $21.99
Submit for $12 Mail-in-Rebate
Final Price: $9.99
—- Check Reviews and Compare Prices on Amazon (Comparable Product)
Bella Stirring Popcorn Popper — $21.99
Submit for $12 Mail-in-Rebate
Final Price: $9.99
—- Check Reviews and Compare Prices on Amazon
Dash Egg Cooker — $21.99
Submit for $12 Mail-in-Rebate
Final Price: $9.99
—- Check Reviews and Compare Prices on Amazon
Black & Decker Waffle Maker — $21.99
Submit for $12 Mail-in-Rebate
Final Price: $9.99
—- Check Reviews and Compare Prices on Amazon
Bella Rotating Waffle Maker — $19.99
Submit for $12 Mail-in-Rebate
Final Price: $7.99
—- Check Reviews and Compare Prices on Amazon
Bella Panini Maker — $21.99
Submit for $12 Mail-in-Rebate
Final Price: $9.99
—- Check Reviews and Compare Prices on Amazon
Toastmaster Electric Skillet — $21.99
Submit for $12 Mail-in-Rebate
Final Price: $9.99
—- Check Reviews and Compare Prices on Amazon
Toastmaster Electric Griddle — $19.99
Submit for $12 Mail-in-Rebate
Final Price: $7.99
—- Check Reviews and Compare Prices on Amazon
George Foreman 5-Serving Classic Plate Grill — $29.99
Submit for $10 Mail-in-Rebate
Final Price: $19.99
—- Check Reviews and Compare Prices on Amazon
FoodSaver Food Sealing Machine — $79.99
Earn $15 in Kohl's Cash
Submit for $20 Mail-in-Rebate
Final Price: $44.99
—- Check Reviews and Compare Prices on Amazon (Comparable Product)
Kitchen – Cookware, Utensils & Food Storage
Pyrex 4-pc Holiday Glass Storage Set — $9.99
—- Check Reviews and Compare Prices on Amazon (Comparable Product)
Food Network 3-pc Melamine Bowl Set w/Lid — $9.99
—- Check Reviews and Compare Prices on Amazon (Comparable Product)
Pyrex 24-pc Storage Set — $29.99
Submit for $10 Mail-in-Rebate
Final Price: $19.99
—- Check Reviews and Compare Prices on Amazon (Comparable Product)
CorningWare French White 11-pc Set — $29.99
Submit for $10 Mail-in-Rebate
Final Price: $19.99
—- Check Reviews and Compare Prices on Amazon
Food Network 3-pc Cookie Sheet Set — $9.99
—- Check Reviews and Compare Prices on Amazon (Comparable Product)
Food Network 3-Tier Cooling Rack — $9.99
—- Check Reviews and Compare Prices on Amazon (Comparable Product)
Food Network 10″ Ceramic Skillet — $9.99
—- Check Reviews and Compare Prices on Amazon (Comparable Product)
Food Network Pre-Seasoned Cast Iron Grill Pan — $9.99
—- Check Reviews and Compare Prices on Amazon (Comparable Product)
Food Network Pre-Seasoned 12″ Cast Iron Skillet — $9.99
—- Check Reviews and Compare Prices on Amazon (Comparable Product)
Food Network 5.5-Qt Enamel Cast Iron Dutch Oven — $49.99
Earn $15 in Kohl's Cash
Submit for $10 Mail-in-Rebate
Final Price: $24.99
—- Check Reviews and Compare Prices on Amazon (Comparable Product)
Food Network 10-pc Red Cookware Set — $79.99
Earn $15 in Kohl's Cash
Final Price: $64.99
—- Check Reviews and Compare Prices on Amazon (Comparable Product)
Food Network 10-pc Copper Ceramic Cookware Set — $79.99
Earn $15 in Kohl's Cash
Final Price: $64.99
—- Check Reviews and Compare Prices on Amazon (Comparable Product)
T-Fal Reserve 20-pc Nonstick Cookware Set — $69.99
Earn $15 in Kohl's Cash
Submit for $20 Mail-in-Rebate
Final Price: $34.99
—- Check Reviews and Compare Prices on Amazon (Comparable Product)
Farberware High Performance 17-pc Nonstick Cookware Set — $69.99
Earn $15 in Kohl's Cash
Submit for $20 Mail-in-Rebate
Final Price: $34.99
—- Check Reviews and Compare Prices on Amazon
Rachael Ray 14-pc Nonstick Marine Blue Cookware Set — $109.99
Earn $30 in Kohl's Cash
Submit for $20 Mail-in-Rebate
Final Price: $59.99
—- Check Reviews and Compare Prices on Amazon
Basic Essentials 14-pc Stainless Steel Cookware Set — $39.99
Submit for $10 Mail-in-Rebate
Final Price: $29.99
—- Check Reviews and Compare Prices on Amazon (Comparable Product)
Basic Essentials 14-pc Nonstick Cookware Set — $39.99
Submit for $10 Mail-in-Rebate
Final Price: $29.99
—- Check Reviews and Compare Prices on Amazon (Comparable Product)
T-Fal 8-Qt Stock Pot — $24.99
Submit for $5 Mail-in-Rebate
Final Price: $19.99
—- Check Reviews and Compare Prices on Amazon
T-Fal 14″ Jumbo Wok — $24.99
Submit for $5 Mail-in-Rebate
Final Price: $19.99
—- Check Reviews and Compare Prices on Amazon
T-Fal Family Griddle — $24.99
Submit for $5 Mail-in-Rebate
Final Price: $19.99
—- Check Reviews and Compare Prices on Amazon
Farberware 20-pc Triple Riveted Cutlery Set — $19.99
—- Check Reviews and Compare Prices on Amazon (Comparable Product)
Farberware 15-pc Stainless Steel Cutlery Set — $19.99
—- Check Reviews and Compare Prices on Amazon
Farberware 30-pc Carousel Cutlery & Gadget Set — $29.99
—- Check Reviews and Compare Prices on Amazon
Chicago Cutlery Matropolitan 15-pc Triple Riveted Cutlery Set — $49.99
Earn $15 in Kohl's Cash
Submit for $10 Mail-in-Rebate
Final Price: $24.99
—- Check Reviews and Compare Prices on Amazon
Kitchen – Dinnerware, Cutlery & Food Storage
Tabletop and Kitchen Textiles — 40-70% Off
Food Network 16-pc Dinnerware Sets — 55% Off
Disney and Star Wares Sets — 60% Off
Food Network Glassware — 60% Off
Oneida 82-pc Flatware Set — $49.99
Earn $15 in Kohl's Cash
Final Price: $34.99
—- Check Reviews and Compare Prices on Amazon (Comparable Product)
Fiesta 4-pc or 5-pc Settings — 23.99
—- Check Reviews and Compare Prices on Amazon
Food Network 40-pc Dinnerware Set — $39.99
Corelle Shimmering White 16-pc Dinnerware Set — $49.99
Earn $15 in Kohl's Cash
Submit for $10 Mail-in-Rebate
Final Price: $24.99
—- Check Reviews and Compare Prices on Amazon
Contigo Thermal Bottles — $9.99
—- Check Reviews and Compare Prices on Amazon
Contigo Hydration Bottles — $9.99
—- Check Reviews and Compare Prices on Amazon
Housewares – Linens, Bedding & Luggage
**The Big One Twin-Pack Memory Foam Pillows — $19.99
**The Big One Twin-Pack Feather Pillows — $19.99
**The Big One Reversible Down Alternative Comforter — $19.99

Food Network 2-pk Kitchen Towels — $3.99
Chaps Premium Bath Towels — $7.99
Sonoma Goods for Life Ultimate or Quick Dry Bath Towels — $5.99
The Big One Bath Towels — $2.99
All Hooded Bath Wraps — $9.99
Sonoma Goods for Life 17×24″ Ultimate Bath Rug — $6.99
Mohawk Home 17×24″ Embossed Memory Foam Bath Rug — $6.99
—- Check Reviews and Compare Prices on Amazon
1000TC 6-pc Sheet Sets, All Sizes — $59.99
Get $15 in Kohl's Cash
Final Price: $44.99
Home Classics Microfiber Sheet Sets, All Sizes — $14.99
The Big One 275TC Sheet Sets, All Sizes — $19.99
—- Check Reviews and Compare Prices on Amazon
Croft & Barrow 525TC Sheet Sets, All Sizes — $39.99
Jennifer Lopez 600TC Sheet Sets, All Sizes — $49.99
Get $15 in Kohl's Cash
Final Price: $34.99
Windsor Hill 5-pc Comforter and Sheet Sets, All Sizes — $29.99
The Big One Complete Bedding Sets, All Sizes — $49.99
Get $15 in Kohl's Cash
Final Price: $34.99
Home Classics Cotton Quilts, All Sizes — $39.99
Chaps 500TC Comforter Set, All Sizes — $79.99
Get $15 in Kohl's Cash
Final Price: $64.99
Licensed Character Reversible Slumber Bag with Backpack — $14.99
Cuddl Duds Flannel Sheet Sets, Twin — $14.99
—- Check Reviews and Compare Prices on Amazon
Cuddl Duds Fleece Sheet Sets, Twin — $16.99
Cuddl Duds 8-pc Flannel Bedding, Full/Queen — $114.99
Get $30 in Kohl's Cash
Final Price: $84.99
Cuddl Duds Cozy Soft Comforter, All Sizes — $59.99
Get $15 in Kohl's Cash
Final Price: $44.99
Cuddl Duds Level 1 Down-Alternative Comforter, Twin — $47.99
Cuddl Duds Level 1 Down Comforter, Twin — $71.99
Get $15 in Kohl's Cash
Final Price: $56.99
Cuddl Duds Level 2 Down-Alternative Comforter, Twin — $71.99
Get $15 in Kohl's Cash
Final Price: $56.99
Cuddl Duds Level 2 Down Comforter, Twin — $107.99
Get $30 in Kohl's Cash
Final Price: $77.99
The Big One Standard/Queen Pillow — $2.99
The Big One Gel Contour or Side Sleeper Pillow — $14.99
Serta 2-in-1 Reversible Pillow — $29.99
—- Check Reviews and Compare Prices on Amazon
Serta Three Layer Comfort Memory Foam Pillow — $29.99
—- Check Reviews and Compare Prices on Amazon
Cuddl Duds Soft or Medium Support Down Pillow — $49.99
Get $15 in Kohl's Cash
Final Price: $34.99
**The Big One Gel Memory Foam Mattress Topper — $29.99
Serta 3″ Soothing Cool Gel Twin Topper — $99.99
Get $30 in Kohl's Cash
Final Price: $69.99
—- Check Reviews and Compare Prices on Amazon
Serta 3″ PerfectTemp Memory Foam Topper — $99.99
Get $30 in Kohl's Cash
Final Price: $69.99
Cuddl Duds Cozy Soft or Sherpa Throw — $19.99
The Big One Supersoft Plush Blanket, All Sizes — $19.99
The Big One Supersoft Plush Throw — $8.99
Biddeford Heated Plush Throw — $24.99
—- Check Reviews and Compare Prices on Amazon
Biddeford Heated Plush Blanket, Twin or Full — $29.99
—- Check Reviews and Compare Prices on Amazon
Sonoma Goods for Life Sherpa Throw — $14.99
Biddeford Heated Velour and Sherpa Throw — $34.99
—- Check Reviews and Compare Prices on Amazon
Coleman 15″ Air Mattress w/Pump — $49.99
Get $15 in Kohl's Cash
Final Price: $34.99
—- Check Reviews and Compare Prices on Amazon (Comparable Product)
American Tourister Burst Luggage — $49.99
Get $15 in Kohl's Cash
Final Price: $34.99
American Tourister Skyway Oasis Luggage — $49.99
Get $15 in Kohl's Cash
Final Price: $34.99
Samsonite Ziplite Hardside 2.0 20″ Luggage — $94.99
—- Check Reviews and Compare Prices on Amazon
Samsonite Hyperspin Softside 21″ Carry-On — $94.99
Get $15 in Kohl's Cash
Final Price: $79.99
—- Check Reviews and Compare Prices on Amazon
Prodigy Rugged Gear 32″ Multipocket Rolling Duffle — $19.99
American Tourister Compass 2-pc Luggage Set — $69.99
Get $15 in Kohl's Cash
Final Price: $54.99
—- Check Reviews and Compare Prices on Amazon (Comparable Product)
Prodigy Avenue 4-pc Luggage Set — $49.99
Get $15 in Kohl's Cash
Final Price: $34.99
Prodigy Velocity 3-pc Hardside Luggage Set — $99.99
Get $30 in Kohl's Cash
Final Price: $69.99
Cuddl Duds 35″ Tufted Pet Bed — $29.99
Housewares – Cleaning Products
**Shark Navigator Swivel Bagless Vacuum — $99.99
Earn $30 in Kohl's Cash
Final Price: $69.99
—- Check Reviews and Compare Prices on Amazon
**iRobot Roomba 620 Vacuuming Robot — $299.99
Earn $90 in Kohl's Cash
Final Price: $209.99
—- Check Reviews and Compare Prices on Amazon
Bissell Powerswift Pet Upright Bagless Vacuum — $49.99
Get $15 in Kohl's Cash
Final Price: $34.99
—- Check Reviews and Compare Prices on Amazon
Shark Navigator Lift-Away Deluxe Bagless Vacuum — $129.99
Earn $30 in Kohl's Cash
Final Price: $99.99
—- Check Reviews and Compare Prices on Amazon
Shark Rocket Ultra-Light Upright Vacuum — $129.99
Earn $30 in Kohl's Cash
Final Price: $99.99
—- Check Reviews and Compare Prices on Amazon
Shark Rocket Deluxe Ultra-Light TruePet Upright Vacuum — $189.99
Earn $45 in Kohl's Cash
Final Price: $144.99
—- Check Reviews and Compare Prices on Amazon
Shark Rocket Ultra Light Duo Clean Upright Vacuum — $239.99
Earn $60 in Kohl's Cash
Final Price: $179.99
—- Check Reviews and Compare Prices on Amazon
Shark Rotator Powered Lift-Away TruePet Bagless Vacuum — $279.99
Earn $75 in Kohl's Cash
Final Price: $204.99
—- Check Reviews and Compare Prices on Amazon
Hoover WindTunnel 2 Pet Rewind Bagless Vacuum — $69.99
Earn $15 in Kohl's Cash
Final Price: $54.99
—- Check Reviews and Compare Prices on Amazon
Hoover PowerScrub Deluxe Carpet Cleaner — $99.99
Earn $30 in Kohl's Cash
Final Price: $69.99
—- Check Reviews and Compare Prices on Amazon
Hoover WindTunnel 3 High Performance Pet Bagles Vacuum — $99.99
Earn $30 in Kohl's Cash
Final Price: $69.99
—- Check Reviews and Compare Prices on Amazon
Dyson V6 Animal Cordless Vacuum — $299.99
Earn $90 in Kohl's Cash
Final Price: $209.99
—- Check Reviews and Compare Prices on Amazon
Dyson Ball Animal Vacuum — $299.99
Earn $90 in Kohl's Cash
Final Price: $209.99
—- Check Reviews and Compare Prices on Amazon
Dyson Cinetic Big Ball Animal + Allergy Bagless Vacuum — $499.99
Earn $150 in Kohl's Cash
Final Price: $349.99
—- Check Reviews and Compare Prices on Amazon
Household – Furniture & Decor
**48″ Easel Frame — $19.99
**51″ Clip Collage Frame — $19.99
Somona Goods for Life Set of 2 Shelton Lair Stools — $69.99
Earn $150 in Kohl's Cash
Final Price: $349.99
Allure Counter Height Bar Stools — $49.99
Earn $15 in Kohl's Cash
Final Price: $34.99
—- Check Reviews and Compare Prices on Amazon (Comparable Product)
Boxed Faux Decorative Pillows — $9.99
Cuddl Duds Decorative Pillow — $9.99
Sonoma Goods for Life SmartStrand Accent Rugs — $9.99 – $39.99
Sun Zero 2-Pk 84″ Energy Efficient Curtains — $19.99
—- Check Reviews and Compare Prices on Amazon
Black LED Metal Lantern — $19.99
7-pc LED Candle Set — $19.99
3-pc Apocthecary LED Candle Set — $9.99
Photo Frames — $3.99
Over the Door Jewelry Armoire with Lights — $79.99
Earn $15 in Kohl's Cash
Final Price: $64.99
—- Check Reviews and Compare Prices on Amazon (Comparable Product)
34″ Jewelry Armoire — $49.99
Earn $15 in Kohl's Cash
Final Price: $34.99
—- Check Reviews and Compare Prices on Amazon (Comparable Product)
Personal Care Products
Sonicare DiamondClean Rechargeable Sonic Toothbrush — $189.99
Earn $45 in Kohl's Cash
Submit for $40 Mail-in-Rebate
Final Price: $104.99
—- Check Reviews and Compare Prices on Amazon
Sonicare FlexCare Platinum Connected Sonic Toothbrush — $189.99
Earn $45 in Kohl's Cash
Submit for $40 Mail-in-Rebate
Final Price: $104.99
—- Check Reviews and Compare Prices on Amazon
Sonicare Series 2 Plaque Control Dual-Handle Toothbrush — $59.99
Earn $15 in Kohl's Cash
Submit for $10 Mail-in-Rebate
Final Price: $34.99
—- Check Reviews and Compare Prices on Amazon
Sonicare Series 3 Gift Pack with Listerine — $59.99
Earn $15 in Kohl's Cash
Submit for $10 Mail-in-Rebate
Final Price: $34.99
—- Check Reviews and Compare Prices on Amazon (Comparable Product)
Sonicare Essence Electric Toothbrush — $24.99
—- Check Reviews and Compare Prices on Amazon
Remington Lithium All-in-One Grooming Kit PG-6025 — $15.99
—- Check Reviews and Compare Prices on Amazon
Norelco Rotary Razor 2300 — $29.99
—- Check Reviews and Compare Prices on Amazon
Norelco 5100 Personal Groomer — $29.99
—- Check Reviews and Compare Prices on Amazon
Norelco Rotary Razor 3100 — $29.99
—- Check Reviews and Compare Prices on Amazon
Norelco Rotary Razor 4400 — $49.99
Earn $15 in Kohl's Cash
Submit for $10 Mail-in-Rebate
Final Price: $24.99
—- Check Reviews and Compare Prices on Amazon (Comparable Product)
Remington Advanced Rotary Razor + Wireless Speaker Set — $99.99
Earn $30 in Kohl's Cash
Submit for $50 Mail-in-Rebate
Final Price: $19.99
—- Check Reviews and Compare Prices on Amazon (Comparable Product)
Norelco Rotary Razor 5800 — $99.99
Earn $30 in Kohl's Cash
Submit for $20 Mail-in-Rebate
Final Price: $49.99
—- Check Reviews and Compare Prices on Amazon (Comparable Product)
Homedics SoundSpa Ultra — $39.99
—- Check Reviews and Compare Prices on Amazon (Comparable Product)
Homedics Massage Pillow with Heat — $39.99
—- Check Reviews and Compare Prices on Amazon
Homedics Dual Node Massager with Heat — $39.99
—- Check Reviews and Compare Prices on Amazon
Homedics Shiatsu Select Foot Massager with Heat — $39.99
—- Check Reviews and Compare Prices on Amazon
Homedics Dual Shiatsu Pro Massage Cushion — $49.99
Earn $15 in Kohl's Cash
Final Price: $34.99
—- Check Reviews and Compare Prices on Amazon
Crane Oscilating Ceramic Tower Heater — $39.99
Submit for $10 Mail-in-Rebate
Final Price: $29.99
—- Check Reviews and Compare Prices on Amazon
Crane Cool Mist Humidifier — $39.99
Submit for $10 Mail-in-Rebate
Final Price: $29.99
—- Check Reviews and Compare Prices on Amazon
Silk'n Jewel Hair Remover Device — $158.99
Earn $45 in Kohl's Cash
Final Price: $113.99
Silk'n Pedi Pro — $38.99
—- Check Reviews and Compare Prices on Amazon (Comparable Product)
Conair Fashion Hair Curler — $59.99
Earn $15 in Kohl's Cash
Final Price: $44.99
—- Check Reviews and Compare Prices on Amazon
Instyler Straight Up Heated Brush — $47.99
—- Check Reviews and Compare Prices on Amazon
CHI Air Tourmaline Ceramic 1″ Hair Iron w/Free Curling Wand — $79.99
Earn $15 in Kohl's Cash
Final Price: $64.99
—- Check Reviews and Compare Prices on Amazon (Comparable Products)
Toys – RC & Electronic Toys
**SkyDrones X-15 3D Virtual Reality Drone — $69.99
Earn $15 in Kohl's Cash
Final Price: $54.99
**Miposaur Robotic Dinosaur — $39.99
—- Check Reviews and Compare Prices on Amazon
Black Series and Sharper Image RC Toys — 55% Off
Parrot Rolling Spider Minidrone — $49.99
Earn $15 in Kohl's Cash
Final Price: $34.99
—- Check Reviews and Compare Prices on Amazon
Black Series Thunder Tumbler RC 360-Degree Rally Car — $9.99
—- Check Reviews and Compare Prices on Amazon
Sky Viper HD Streaming Video Drone — $79.99
Earn $15 in Kohl's Cash
Final Price: $64.99
—- Check Reviews and Compare Prices on Amazon
Sphero BB-9 App-Enabled Droid — $119.99 30KC
Earn $30 in Kohl's Cash
Final Price: $89.99
—- Check Reviews and Compare Prices on Amazon
Zoomer Chimp — $99.99
Earn $30 in Kohl's Cash
Final Price: $69.99
—- Check Reviews and Compare Prices on Amazon
WowWee Chip the Robot Pup — $169.99
Earn $45 in Kohl's Cash
Final Price: $124.99
—- Check Reviews and Compare Prices on Amazon
Remote Controlled Vehicles (Jeep Pictured) — $24.99
—- Check Reviews and Compare Prices on Amazon (Comparable Product)
1:9 Scale Remote Control Truck — $59.99
Earn $15 in Kohl's Cash
Final Price: $44.99
—- Check Reviews and Compare Prices on Amazon (Comparable Product)
Toys – Bikes & Ride On Toys
**Jetson V5 Active Balance Scooter w/Bluetooth Speaker — $299.99
Earn $90 in Kohl's Cash
Final Price: $209.99
—- Check Reviews and Compare Prices on Amazon
Razor Hovertrax 2.0 Self-Balancing Board — $349.99
Earn $105 in Kohl's Cash
Final Price: $244.99
—- Check Reviews and Compare Prices on Amazon
Razor Power Core E90 Electric Scooter — $99.99
Earn $30 in Kohl's Cash
Final Price: $69.99
—- Check Reviews and Compare Prices on Amazon
Fisher Price Paw Patrol Lil' Quad — $59.99
Earn $15 in Kohl's Cash
Final Price: $44.99
—- Check Reviews and Compare Prices on Amazon
Fisher Price Batman Ride On — $24.99
—- Check Reviews and Compare Prices on Amazon
Toys – Play Sets
**50% Off Toys — Fisher Price, Playskool, Little Tikes, Step2, Barbie, Hot Wheels, Matchbox, Nerf, Tonka, Play-Doh, Jumping Beans, Imaginext, Little People, and Games
**Paw Patrol Action Pups, 6 pk — $19.99
—- Check Reviews and Compare Prices on Amazon
**Poppy's Hair Salon Play Set — $19.99
—- Check Reviews and Compare Prices on Amazon
Mr. Potato Head Super Spud — $17.99
—- Check Reviews and Compare Prices on Amazon
Mr. Potato Head Mashters of the Galaxy Set — $24.99
—- Check Reviews and Compare Prices on Amazon
Paw Patrol Look-Out Play Center — $39.99
—- Check Reviews and Compare Prices on Amazon
Little People Disney Princess Castle — $39.99
—- Check Reviews and Compare Prices on Amazon
Imaginext Mega Dino Play Set — $49.99
Earn $15 in Kohl's Cash
Final Price: $34.99
—- Check Reviews and Compare Prices on Amazon
Toys – Super Heroes & Weapons
Star Wars Basic Light Saber — $9.99
—- Check Reviews and Compare Prices on Amazon
Star Wars Death Star Playset — $19.99
—- Check Reviews and Compare Prices on Amazon
**Imaginext Batcave — $19.99
—- Check Reviews and Compare Prices on Amazon (Comparable Product)
Half Shell Heroes Vehicle Battle Pack — $39.99
—- Check Reviews and Compare Prices on Amazon
Nerf Alpha Trooper — $19.99
—- Check Reviews and Compare Prices on Amazon
Nerf Zombie Strike — $24.99
—- Check Reviews and Compare Prices on Amazon
**Nerf Zombie Strike Target Set — $8.99
—- Check Reviews and Compare Prices on Amazon
Toys – Cars & Train Sets
Hot Wheels Speedtropolis Set — $9.99
—- Check Reviews and Compare Prices on Amazon
Hot Wheels T-Rex Take Down — $29.99
—- Check Reviews and Compare Prices on Amazon
Matchbox Super Blast Firetruck — $24.99
—- Check Reviews and Compare Prices on Amazon
Melissa & Doug Deluxe Multi-Vehicle Activity Rug — $59.99
Earn $15 in Kohl's Cash
Final Price: $44.99
—- Check Reviews and Compare Prices on Amazon (Comparable Product)
VTech Go Go Smart Wheels Safe and Sound Rescue City — $39.99
Toys – Dolls, Barbies & Pretend Play
**Select Fashion Dolls — $5.99
(Items Below Pictured)
    Barbie Fashionista
    —- Check Reviews and Compare Prices on Amazon 
    Monster High
    —- Check Reviews and Compare Prices on Amazon
    Disney Princess
    —- Check Reviews and Compare Prices on Amazon
    DC Super Hero Girls
    —- Check Reviews and Compare Prices on Amazon
**Shopkins Sweet Spot Playset with Shoppie Doll — $19.99
—- Check Reviews and Compare Prices on Amazon
Barbie Volkswagon Barbie — $19.99
—- Check Reviews and Compare Prices on Amazon
Barbie Puppy Mobile w/4 Dolls — $69.99
Earn $15 in Kohl's Cash
Final Price: $54.99
—- Check Reviews and Compare Prices on Amazon (Comparable Product)
Step2 Shopping Cart — $17.99
—- Check Reviews and Compare Prices on Amazon
Barbie Horse Riding Lesson — $24.99
—- Check Reviews and Compare Prices on Amazon
Graco Stroller Playset w/Stroller, Crib, & High Chair — $24.99
—- Check Reviews and Compare Prices on Amazon (Comparable Product)
Step2 Modern Cook Kitchen — $59.99
Earn $15 in Kohl's Cash
Final Price: $44.99
—- Check Reviews and Compare Prices on Amazon (Comparable Product)
Toys – Games
**Select Board Games — $4.99
(Items Below Pictured in the Ad)
    Hungry Hungry Hippo
    —- Check Reviews and Compare Prices on Amazon
    Connect 4
    —- Check Reviews and Compare Prices on Amazon
    Monopoly
    —- Check Reviews and Compare Prices on Amazon
    Clue
    —- Check Reviews and Compare Prices on Amazon
Select Board Games — 50% Off
Black Series Party-Sized Block Stacking Game — $39.99
—- Check Reviews and Compare Prices on Amazon (Comparable Product)
Little Tikes Basketball Hoop — $24.99
—- Check Reviews and Compare Prices on Amazon (Comparable Product)
Spirograph Deluxe Art Set — $24.99
—- Check Reviews and Compare Prices on Amazon (Comparable Product)
Deluxe Book Gift Set — $24.99
Mega Bloks First Builders Tubs — $24.99
—- Check Reviews and Compare Prices on Amazon (Comparable Product)
Toys – Miscellaneous
Celestron 114AZ Telescope — $79.99
Earn $15 in Kohl's Cash
Final Price: $64.99
—- Check Reviews and Compare Prices on Amazon
Adam Levine Acoustic Guitar Pack — $59.99
Earn $15 in Kohl's Cash
Final Price: $44.99
—- Check Reviews and Compare Prices on Amazon
Discovery Kids Canvas Play Teepee — $34.99
—- Check Reviews and Compare Prices on Amazon
Character Ball Pits — $24.99
Little Tikes My First Bouncer — $79.99
Earn $15 in Kohl's Cash
Final Price: $64.99
—- Check Reviews and Compare Prices on Amazon
Character Table & Chairs — $39.99
—- Check Reviews and Compare Prices on Amazon
Playhut Paw Patrol Play Tent — $24.99
—- Check Reviews and Compare Prices on Amazon
Holiday Decorations & Accessories
All Yankee Candle 19-oz Jar Candles — 50% Off
Holiday Tabletop and Kitchen Textiles — 50-60% Off
St. Nicholas Square Fleece Throw — $3.99
Holiday Memories Jar Candles — $3.99
Holiday Frames — $7.99
St. Nicholas Squire Festive Holiday Accent Rugs — $9.99
Monogrammed Stockings — $11.99
Holiday Thermal and Ceramic Mugs — $3.99
Holiday Wine Sweaters — $5.99
Holiday Motorized Train Set — $34.99
7′ Pre-Lit Slim Tree — $79.99
Earn $15 in Kohl's Cash
Final Price: $64.99
—- Check Reviews and Compare Prices on Amazon (Comparable Product)
7′ Flocked Slim Tree — $99.99
Earn $30 in Kohl's Cash
Final Price: $69.99
—- Check Reviews and Compare Prices on Amazon (Comparable Product)
Startastic Motion Laser Lights — $39.99
—- Check Reviews and Compare Prices on Amazon