Kroger/Banner Stores selected some bloggers, including me, to create posts about the Fuel Crew Mom Campaign, and provided me with compensation to thank me for my participating and post.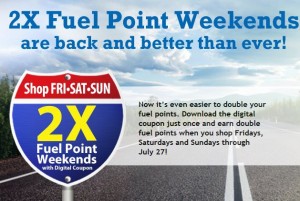 What summer activities do you have planned this summer? Our plans for the summer  include baseball games, basketball games, and probably more baseball games. We will be driving around Indiana quite a bit! I'm sure many of you will be doing some driving this summer even if you are planning on a local Staycation. 
With the cost of gas so high right now and the rising costs of food, we are always looking for any way to save on our fuel costs and groceries. Did you know you can save money on fuel with your normal grocery shopping? Yes, that's right, Kroger wants to "Fuel Your Summer" with their fuel program!
If you are new to the Kroger Fuel Program, you can watch this short video that showcases four bloggers who are also Kroger shoppers and how they use this program.
Tips to Maximize Your Savings
Every $1 spent on qualifying items at Kroger earns you one fuel point. To help you fuel your summer, Kroger is offering a digital coupon that will double fuel points earned while shopping at Kroger on weekends. Therefore, every $1 spent on the weekend (Friday, Saturday, or Sunday) amounts to two fuel points. The double weekend points runs through July 27, 2014 but you will need to visit the Kroger page here to activate your digital coupon to continue to receive 2X fuel points on weekends.
Need gift cards or going to be making a large known purchase at another store? Head to Kroger to purchase your gift cards ahead of time for all your gift giving needs as well as your own shopping to earn 2X the Fuel Points on your gift card purchases.
Purchase your No-Contract Wireless Phone and Airtime Cards at Kroger and earn 2X the Fuel Points on those purchases as well.
These extra fuel points can be used to save up to $1 per gallon when you redeem 1,000 fuel points at any KrogerFuel Center, and at participating stations. Maximize this reward by making sure to have a near empty tank when you redeem!
This is on top of the already great deals you get by shopping at Kroger! Each week we list the coupon matchups and deals for the following Kroger regions to help you maximize your grocery dollars!
This giveaway was sponsored by Kroger. Rest assured, this Post was written by me and was not edited by the sponsor. Read more on my Disclosure Policy.