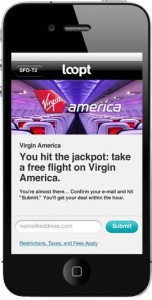 San Francisco, California:
A three month daily giveaway has just begun Live at San Francisco International Airport (SFO).  All participating travelers will receive a wide range of giveaways like a free desert or even a free flight simply for checking-in at terminal 2!  Here's how:
Travelers will check in on the Loopt mobile app (iPhone and Android devices) and check in to the following participating carriers:
Napa Farms Market
Natalie's Candy Jar
Morgans Hotel Group: the Mondrian in Los Angeles and the Clift in San Francisco
Every 48 hours Terminal 2 travelers are eligible for a new deal.  This offer expires January 26, 2012.