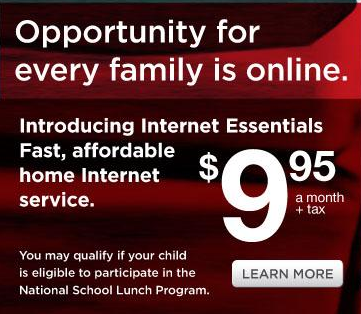 My kids received a flyer from school with this information on it but I didn't know if it was just locally or nationwide. Apparently, it is nationwide so there may be more of you out there that can use this information or share it with someone you think could benefit. If your child qualifies for free school lunches, you might also qualify for the low cost high speed internet through the Internet Essentials program from Comcast.
How to Qualify: 
To qualify for $9.95 a month Internet service and a low-cost computer, your household must meet all these criteria:
Be located where Comcast offers Internet service
Have at least one child eligible to participate in the National School Lunch Program
Have not subscribed to Comcast Internet service within the last 90 days
Not have an overdue Comcast bill or unreturned equipment
How to apply
Call 1-855-8-INTERNET (1-855-846-8376) to request an application
You will be mailed an application. Complete and return it, along with lunch program documents from your child's school
You will be notified by mail about the status of your application. Allow 7-10 days for a response
Once you are approved, we'll mail you a welcome package with everything you need to set up your Internet service and receive our free Internet training. If you choose to purchase a low-cost computer, your welcome package will provide details.
Thanks Family Friendly Frugality!