This is a sponsored post written by me on behalf of The Heart Truth®. All opinions are 100% mine.
As a woman, it's easy to get caught up taking care of everyone else, but ourselves. Over the last few years, I've seen women I know and love affected by heart disease. In 2016, I am making am a consciences effort to do what I can to help prevent it and raise awareness. This is why I'm focused on telling others about The Heart Truth.
Heart Disease Risk Factors for Women
Women are at risk for heart disease more than I ever thought possible. Once I started looking into the statistics, I realized I was almost naïve to how much heart disease affects women on a daily level. In fact, heart disease is the #1 killer of women. Isn't that shocking? You hear of lots of other things that are killing women and it turns out that heart disease is the number one killer. I was also shocked to find out that in 2013, in the USA alone, 1 in 4 women died of heart disease. We live in the greatest country in the world, yet women are dying left and right from heart disease. In case you are wondering, here are some of the risk factors for heart disease:
High blood pressure

High blood cholesterol

Diabetes and prediabetes

Smoking

Being overweight or obese (BMI of 25 or greater)

Being physically inactive (less than 2.5 hours of physical activity per week)

Having a family history of early heart disease

Having a history of preeclampsia during pregnancy

Unhealthy eating

Age (55 or older for women)
Now back to telling others about The Heart Truth, since you know it is so important. The Heart Truth is focused on raising awareness about heart disease and its risk factors among women. I'm convinced that most women don't even know what causes heart disease and it is time to change that and prevent it when possible.
My Gift Back #FromTheHeart 
In order to help the women in my life prevent heart disease, I'm making a better effort each day in February to get active when I can. If that means asking a neighbor to go on a walk, then so be it. I intend on inviting a couple of friends to the gym or to try some new exercises. I see staying active as a major way to help prevent heart disease.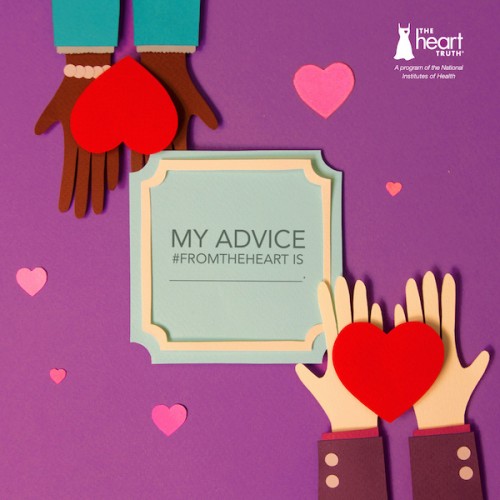 Twitter Chat
Join The Heart Truth and the American Heart Association for a Twitter #HeartChat on National #WearRedDay, February 5. Follow @TheHeartTruth for more details! #FromTheHeart
Don't Miss This
Advice From the Heart will be shared throughout February and the Gifts From the Heart will be shared the week of Valentine's Day on The Heart Truth's social media channels.