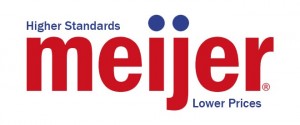 I recently told you about the changes to Meijer's coupon policy effective March 31, 2013 at many locations. I now have a list of the stores that will be affected by these changes. My Indianapolis readers will be happy to note that none of those stores look to be affected by the changes. Please let me know if your store is affected and NOT on this list by leaving me a comment below!
Remember just because your store is not affected at this time, does not mean it will not change in the future. Marsh Supermarkets recently stopped doubling coupons and many Kroger locations are no longer doubling as well.
Michigan Stores:
Bath Township
Charlotte
Coldwater
Dewitt
East Lansing
E. Jackson (E. Michigan Ave.)
Grand Ledge
Jackson (Airport Rd.)
Lansing (W. Saginaw Hwy.)
Lansing (S. Pennsylvania Ave.)
Mason
Mt. Pleasant
Okemos
Owosso-Corunna
Indiana Stores:
Anderson
Angola
Fort Wayne (Lima Rd.)
Fort Wayne (Illinois Rd.)
Fort Wayne (Maysville Rd.)
Goshen
Kokomo – :(
Lafayette
Mishawaka (S. Bremen Hwy.)
Mishawaka (Grape Rd.)
Muncie
South Bend
(Thanks to Bargains to Bounty for this list!) 
What Can You Do? 
First of all, please don't take this out on your cashier. This is not their fault. They are just following orders from the corporate headquarters. You can also ask to speak to a manager to let them know your feelings as well as they can communicate this to the corporate headquarters.
What you can do is contact corporate headquarters via phone, email, and Facebook. I recommend doing all three to voice your displeasure about this new policy. But please keep it clean! :)
Contact Information for Meijer:
Email: via contact form here

Phone: 1-877-E-MEIJER (1-877-363-4537)
Facebook: Facebook.com/Meijer
via mail:
Meijer
2929 Walker Ave., NW
Grand Rapids, MI 49544-9424
There are other ways you can reduce your grocery budget such as shopping at ALDI and using effective meal planning strategies.
See the entire Meijer Coupon-Matchups for the Cincinnati (Sun-Sat ads) and Indianapolis area ad (Thur-Weds).