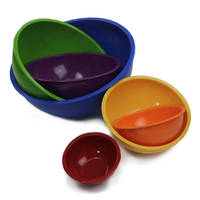 I love these fun colors of this 6 piece Melamin Bowl set! Plus, I love the price at just $11.99.
The baking marathon is about to begin, and if you are anything like us, you never seem to have enough bowls in the kitchen to mix the batter, whisk the eggs, or sift the flour. To ensure that you are well prepared, why not pick up this colorful set of melamine bowls. With added touches of convenience such as the easy stackable storage, these bowls will ensure that you make it across the finish line.Each set includes bowls in 0.32Qt, 0.74Qt, 1.37Qt, 2.22Qt,3.69 Qt, and 5.8Qt sizes.
Shipping is $4.99.
Want to save loads of money shopping online? Check out the latest online shopping deals.