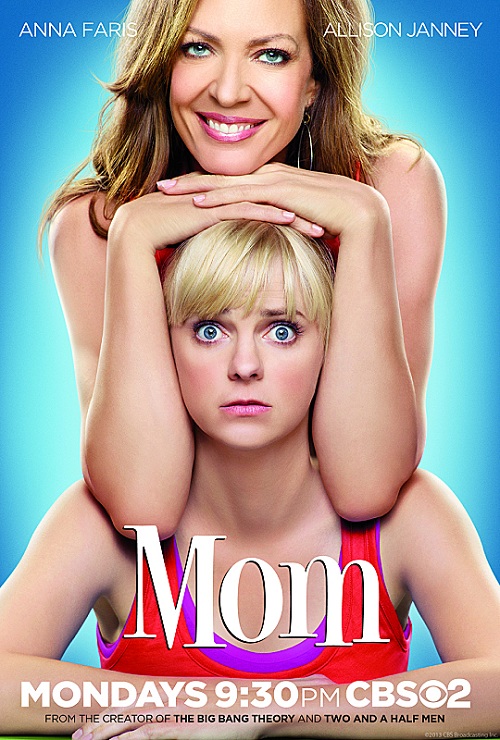 There is a new show that will be premiering this fall called MOM on CBS and starts Anna Faris and Allison Janney. Both of these actresses I have enjoyed in their other comedic films!
MOM is a comedy from executive producer Chuck Lorre starring Anna Faris as a newly sober single mom raising two children in a world full of temptations and pitfalls, and multiple Emmy Award winner Allison Janney as her critical, estranged mother. Christy is a waitress at a posh Napa Valley establishment who is four months clean and doing her best to be a good mom and 

overcome a history of questionable choices. Her sobriety is tested when her recovering alcoholic mom Bonnie reappears, chock-full of passive-aggressive insights into Christy's many mistakes.  Bonnie joins Christy's already complicated circle of relationships: her handsome, married boss – and lover – Gabriel; the restaurant's hot-tempered chef, Rudy; her pretty, 16-going-on-25-yearold daughter, Violet; her sweet but overly honest son, Roscoe; her irresponsible ex and Roscoe's father, Baxter; and Violet's clueless boyfriend, Luke. Christy tries to remain positive as she pursues her new path in life, but she faces an uphill battle, surrounded by a dubious support system – and a copious amount of dysfunction.  

Premieres Monday, Sept. 23, 2013, on the CBS Television Network.
Watch the preview here:

I have a confession..well several…
I will hide chocolate – especially my Reese Cups.
Please don't touch my iPad…and I will hide it and put a password on it so the kids won't use it!
Sometimes I just sit in the bathroom for quiet time….
Sometimes I quietly sneak out of the house when I'm going somewhere so I don't have to take anyone with me.
Keep up with the comedy on Twitter or  Facebook  and you can follow the cast on Twitter too!
Nate Corddry @imnatecorddry
Matt Jones @mattjonesisdead
French Stewart @frenchstewart
Sadie Calvano @sadiecalvano
Follow CBS: @cbstweet
This video should make us all feel better about our parenting….LOL…enjoy! :)
TV's Top 10 Most Unconventional Moms from beth Feldman on Vimeo.
This post was sponsored by the Role Mommy Writer's Network, all opinions are my own. Rest assured, this Post was written by me and was not edited by the sponsor. Read more on my Disclosure Policy.