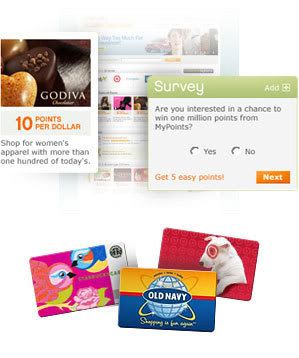 Do you My Point?
If not, you should. Since I've joined (back in October), I've earned over $75 in gift cards just by clicking on emails (not buying anything), signing up for newsletters, searching the web with their web search, and taking short surveys. You can even earn points by printing out coupons! (woo hoo – getting paid to print/use coupons!) Those are the easy/cheap ways to earn points. Guess what I used my points to buy? CVS gift cards of course! One $25 gift card for CVS can last me a month or so!
There are other ways to earn points:
Shop online through their links (I use this only when Ebates doesn't have a merchant – I am planning on writing an entry on why I like Ebates soon!)
Shop or book travel
Playing Games
Referring a friend (250 pt when your friends earns their first 250 pts.)
My Points Credit Card
Trial Offers (I can't remember where I read this but one blogger suggested getting a one time use paypal "virtual" credit card number to use so that if you forget to cancel before the time frame is up, your credit card won't be charged!)
How to organize your MyPoints
Basically the way I do this to consume the least amount of time. I have a "junk" email address that I sign up for all my free offers, newsletters, etc. so that my regular email doesn't get bogged down by the junk and I miss important emails from friends and family. I personally like gmail as it has a so much storage space and will automatically filter your spam into a spam filter. It is also very user friendly. Then once or twice a week I will do a "search" in my gmail account for "Mypoints" which will bring up all the mypoints emails. I think click on those and delete them as a I click on them. You can accumulate quite a few points in very little time this way.
Mighty Bargain Hunter explains how to get the most points for little effort.
Redeeming Points
Redeeming points is very simple. Once you hit a certain amount of points, you can trade those points for rewards. You can chose from over 70 different merchants. You can also donate your points to charity! It says it will take 6-8 weeks to receive your award but my experience has been 2-3 weeks.
Chief Family Officer explains why she likes MyPoints.