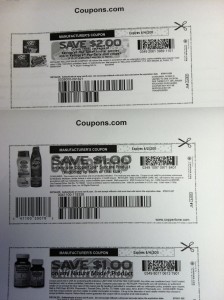 If you printed out the $2/3 Kellogg's printable, you probably noticed it appears to be missing something. However, it is not. It is just a coupon with the updated technology.
Several of you have emailed or left comments to let me know you had issues with this coupon at the store. It is a legitimate coupon. However, it looks like it is missing the UPC but it is not.
In the long term, this new technology should improve scan rates and reduce your time checking out. However, in the short term, employees who have been trained to spot out the traditional coupons.com technology are going to be confused and possibly refuse your coupon because they think it is fraudulent.  It is frustrating when the coupon companies do updates without properly training companies and their employees. So you may have some issues with printables until the knowledge is caught up with the employees.
If you want to learn more about the changes, check out Frugal Finder's post on the new Databar Barcodes, which he explains in more detail.