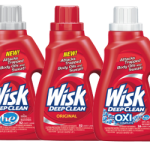 This is a fun post as part of my continued journey with Wisk with the Stain Spectrum Technology.  For this experiment we are taking oil stains such as peanut butter, salad dressing, and even lip gloss!
Many of you know I'm a lip balm addict so I don't wear much lipstick. However, I do have my favorite shiny, fruity lip glosses I like to wear. Accidents do happens so it is very plausible that someone in our household might get lipgloss on something especially with a four year old little girl in the house!
I kissed the towel with the lipgloss. I used the side without the pattern so there wouldn't be any confusion about what was the stain and what was the design.
I then pre-treated the stain with Wisk for around 30 seconds. This is a step I often skip at home if someone gets a stain on clothing but it seems to be very important in helping get the stains out.
I rinsed and scrubbed with warm water. By the way, if you haven't tried the new Wisk, it has a wonderful scent!
Lip gloss is completely gone!
This is the last post in my Wisk campaign. Overall, I'm very pleased with the stain fighting powers and scent of Wisk. You can find it in Deep Clean, Coldwaster Power, Colorsafe Bleach, High Efficiency, and Fresh Boost, all with the Wisk Stain Spectrum Technology.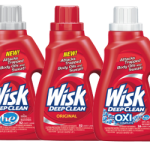 With its new stain fighting technology, the new Wisk (in the red bottle) will tackle all of them! Be sure to follow Wisk on Facebook and Twitter to keep up with the latest promotions.
You can also learn more and download a money saving coupon at Wisk.com. A 32 load bottle will cost around $5.99 retail price but we've seen it on sale lately for much less! So you should be able to get a deal with a sale and with the printable coupons here or here.
What kind of stains do you have most of in your household?
This is a sponsored blog post by In-Store only Christmas Price Guarantee on behalf of Wisk. Read my full Disclosure Policy.