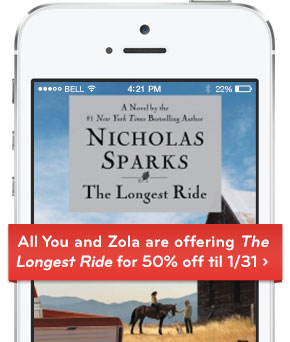 Read #1 New York Times Bestselling author Nicholas Sparks's The Longest Ride on your iPhone or iPad. Now 50% off (just $5.49!) for All You readers for a limited time through January 31, 2014. Zola is a new site and right now this book is only available to read on iPads and iPhones.
Go here for details.
Available through January 31, 2014.
Zola has other books that are available on other devices and I'm guessing they will be expanding this in the future.
Want to save loads of money shopping online? Check out the latest online shopping deals.