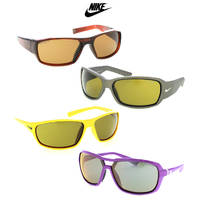 Looking for a good deal on a nice pair of shades? It's starting to warm up in my area (hopefully for awhile). Tanga has these Nike Unisex Plastic Sunglasses for $34.99 (Retail is $154.95.) Shipping is $4.99
Nike sunglasses are ideal for running, delivering grip, stability and comfort in a stylish design. They feature a lightweight wrap frame design, soft rubber inlay nosepads, and Nike Max Lens Technology for precise views at all angles. The Nike sunglasses are a perfect fit for today's athlete. 100-Percent UVA and UVB protection.
Want to save loads of money shopping online? Check out the latest online shopping deals
.