Who else is SICK of all of the candy at Halloween? I'm always looking for alternative ideas for Halloween treats instead of traditional candy. I get so frustrated finding wrappers all over the house and all the fighting over the candy among the kids in my household. This Halloween, the American Dental Association (ADA) and PopCap Games are redefining what a "treat" is by giving out a fun game for free instead of candy.
Any other moms loving the sound of this already?
The ADA, which is a leading source or oral health-related information and PopCap, a leading digital game creator have teamed together to raise awareness for the importance of kids' oral health as well as providing a fun, safe alternative to sugary treats on Halloween night.  Last year we found our youngest daughter's candy stash under her bed. By the time I found the wrappers the damage had already been done. She was sneaking candy after bedtime and teeth brushing. I don't know how long it was going on but there was plenty of empty wrappers!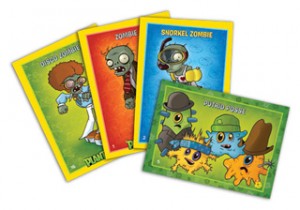 It's so easy! Anyone wishing to give away PopCap's hit Plants vs. Zombies game instead of candy, which can get expensive, can download these printable coupons for a FREE game. The free codes can be redeemed at http://stopzombiemouth.com starting on October 30, 2012 through November 10, 2012. They are good for the PC or Mac version of this super popular game, which normally sells for $19.95.
Head over to Stop Zombie Mouth and you will find several free downloads like FREE coloring pages, FREE invitations, FREE Halloween Masks downloads, and more.
Information and trading cards were provided to me in order to facilitate this post.  Read more on my Disclosure Policy.