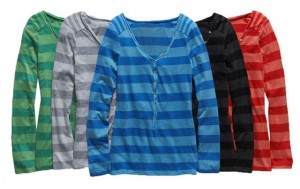 Thanks to Frugal Fair Hope for compiling the Old Navy Weekly Coupon Hints!
December 22nd
$10 off $50 Printable Coupon:  Click the  December 22nd gift. Ring the big to get your coupon.
December 21st
15% off Printable Coupon: Click the December 21st gift. Click on the 4rd page with the white Christmas tree T-shirt, click on the scarf on Heather's neck in the ornament, then move the scarf to  the Christmas Tree t-shirt to receive your coupon. (That's alot of work!)
December 20th
$5 off $25 printable coupon: Click on the December 20th gift. Click on the red ribbon on the left side behind the box to receive your coupon.
Coupons expire 12/26/09.
Plus, the Old Navy Item of the week (until 12/24) is a $5 long sleeve layering t-shirt. (Regular $16.50)