Olive Garden's Buy One, Take One offer is a wonderful sanity saver for families everywhere. For some reason my kids are always hungry and wanting dinner. Come'on give mom and break and just eat a bowl of cereal already. In our current, temporary living accommodations there isn't much space for cooking elaborate meals. There is also a mom who was worn out from spring break vacation who was not in the mood to cook. All of these make for the perfect excuse to just dine out.
Enter Olive Garden's Buy One, Take One offer. This made for the perfect dinner pick up after my daughter's tumbling class over the weekend. Even though we didn't feel like dining in the restaurant, we were still able to take advantage of this offer when we ordered To-Go. I was amazed at how simple it was to order online. Pick up was amazingly efficient too.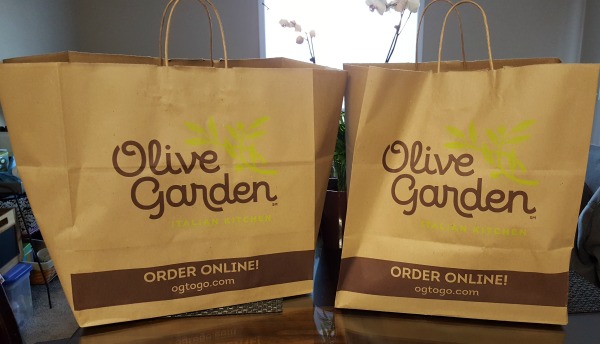 Our spring schedule is super busy as always and this fantastic offer is a great way for us to get the most of our dining out dollars. You even get your choice of salad or soup with your to-go orders. We ordered three meals from the list of qualifying entrees: Five Cheese Ziti Al Forno, Baked Parmesan Shrimp, and Sausage Stuffed Giant Rigatoni. We choose Fettuccine Alfredo for our take one meals since that is a kid favorite in our household! Everyone in the house was happy. Say what?!?!
We will be taking advantage of this deal again next week after tumbling. We were able to get two full family meals out of these entrees and still had enough for two people to eat leftovers another night. It also allowed my picky eaters to try a couple of new things, which they loved as much as their favorite Fettuccine Alfredo.
Sounds great, right? Visit the Buy One, Take One section of OliveGarden.com for more details and to place an order online.  This offer is valid through April 17, 2016.
I received a gift card in order to do a review. The opinions expressed are my own.