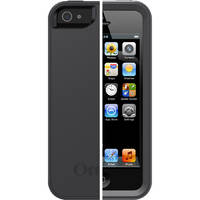 Tanga has a great deal on the OtterBox Prefix Series Case for iPhone 5 – just $14.99! These retail for $25 and the price I see on Amazon is almost full retail price. Shipping adds $3.99.
The Prefix series features a one-piece design with a shock-resistant silicone exterior. Its internal polycarbonate skeleton supports and protects your iPhone while an included self-adhesive screen protector ensures protection from scratches. The Prefix's unibody case allows for one-step installation and a convenient, light weight of 1.44 ounces. *Features* * Port protection with complete access to all functions through case – blocks dust and debris from ports which lengthens the life of the device * Compatible with iPhone 5 the case is a natural extension of the refined technical beauty of the device * Thin, lightweight 2-piece slider, Dual materials, polycarbonate and silicone molded together give flexing action upon impact * Self-adhesive screen protector fits flush and flat on the screen – protects from scratches and is barely noticeable * Thin, lightweight 2-piece slider
Want to save loads of money shopping online? Check out the latest online shopping deals.