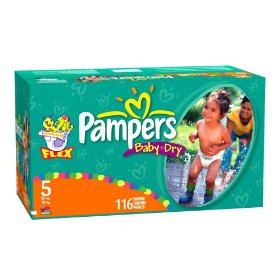 Save up to 30% on Pampers

Save 15% today when you buy select Pampers diapers offered by Amazon.com. Use the following promotional code when you check out: PMPRSDO8. Plus, save another 15% when you combine this instant rebate with your Subscribe & Save order–bringing the total savings to 30%. This offer applies only to products offered by Amazon.com and for purchases made between December 1 and December 7, 2008. You can cancel the "Subscribe & Save" service at anytime.
To get the size diaper we would need, it would cost around 25¢ a diaper for Size 5 Baby Dry. It is even less depending on the size of diapers you need. (Penny Pinching Parent has a great tool called the Price to Beat per diaper. Check it out to see if this Amazon deal is a deal!)
(Thanks to Delectible Mommies)
Don't miss out on any deals: Subscribe to my free newsletter via email or RSS.