Last week, I shared my thoughts on the two rolls of paper towel, which was sent to me by White Cloud for the Rate the Rolls Challenge.
After my post/vlog was live, White Cloud informed me that…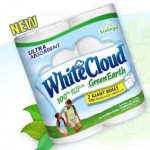 Roll A is  White Cloud Green Earth, which is 100% recycled fiber.
Roll B is Sparkle.
If you missed my vlog, I stated I would buy Roll A because it was a larger roll. Otherwise, I didn't see much difference in the two rolls. Also, it is good to note that Roll A is made from recycled fibers, which may make a difference to some of you!
I didn't get an exact price but off hand, I know these two rolls are similar in price. Plus, you can find money saving coupons from White Cloud to bring your out of pocket down even further.
Read the thoughts of the other White Cloud Bloggers:
Stayed tune for Rate the Roll Challenge Part II…where we take on bath tissue!
Disclosure: White Cloud has compensated me for my time on this project. Rest assured, all opinions and thoughts are always my own. My goal as always is to help you save time and money. For more information read my disclosure policy.