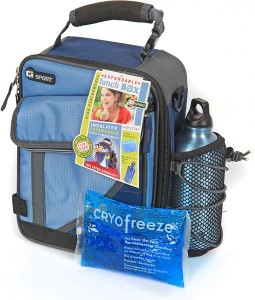 I heard about this recall on the news this morning and thought some of you may be affected. These Ci Sport expandable insulated lunch boxes with gel packs are being recalled. The gel contains anti-freeze, which may leak out of the damaged freezer gel packs (and we know those things don't always hold up!) and can poison you or your child. One dog has reportedly died from ingestion of the gel.
These were sold at Costco Wholesale Clubs, Leon Korol, and Cost U Less stores between May 2007 and September 2008 for $10.
Remedy: Consumers should immediately stop using the gel packs and dispose of them according to federal, state and/or local regulations. It is recommended that consumers contact their local waste disposal authority for instructions. Consumers may return the lunch box set to Costco for a full refund or may receive a $5 cash refund for the gel pack only by contacting California Innovations.
Read more about the Ci Sport Lunch Box Recall.