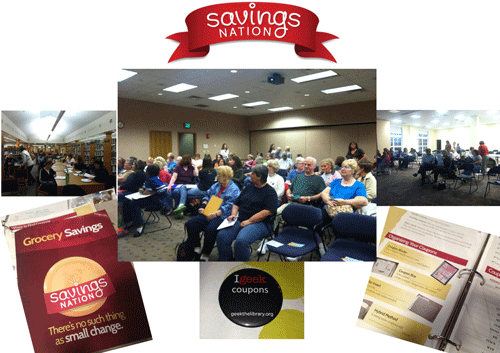 Just a reminder to sign up for my Tipton Savings Nation grocery savings workshop for May 15, 2012 at 6:30 p.m. at the Tipton County Foundation. Tickets are $10 and 100% of the proceeds go to the Tipton County Foundation "Shoes for Kids" fund in my memory of my brother Billie Schroeder.
Past classes have been very popular and I'm excited to share this new format and information with you. You will be entertained as well as educated on couponing! Everyone goes home with a very nice Savings Nation workbook.
Topics Include:
Strategic Grocery Shopping: Learn how to avoid common marketing traps at the grocery store, and shop smarter!
Realistic Couponing: See exactly how coupons work, how you can use them to save at least 50% on your groceries, understand your stores' policies, and keep all those awesome coupons organized!
Meal Planning Made Simple: Get practical help with how to plan out your menu to save the most money while providing healthy meals for your family!
Get your ticket here: 
Tipton County Foundation Building
May 15th from 6:30 – 8:30 p.m.
Register Here
You can see all the upcoming classes I have scheduled here. This is being updated often! If you would like me to come to your town or your organization would like to know how you can host a coupon workshop as a fundraiser, please fill out this coupon class interest form.
Also, if you have friends in other cities that want to learn to save like a Pro, please visit SavingsNation.com and find a class location near you. In partnership with Savings.com, we are rolling out dates all throughout the U.S. by the top blogs/money-saving experts in the community!