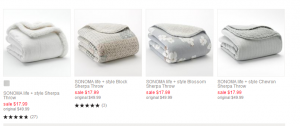 Just a reminder if you have Kohl's cash – it may expire today! I had $30 that was set to expire today and wasn't sure if I could get to the store. You can use Kohl's cash online – woo! Plus, I needed to pick up a few other things and found a 20% off coupon code – FROSTY20 (w/Kohl's card) to save even more. $50+ order gets FREE shipping!
There are some really soft throws on sale too! I found these SONOMA life Sherpa Throw for just $17.99 (ARV $49.99) that look super soft! Just search for SONOMA life Sherpa Throw to find them at Kohls.com.
Want to save loads of money this holiday season? Find the latest holiday deals I've posted about. You can also check out the Hot Holiday deals,  Giveaways, Online Coupon Code Database, and my Holiday Gift Guide. These pages are being updated often.