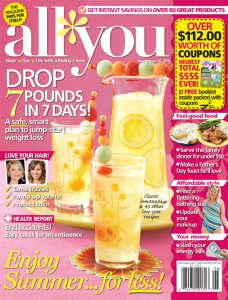 I have a fabulous deal for ALL YOU Magazine subscription. So if you haven't subscribed yet, you will want to today!
If you have already subscribe, extend your subscription or get a second subscription for extra coupons! Want to know the kind of AWESOME coupon you will receive? Check out my ALL YOU Coupon Database to search for past issues and the current issue coupons.
My main love for ALL YOU magazine is for the great manufacturer's coupons in it. Usually $30 – $100 worth of high value coupons including free product coupons. This is the main reason I subscribe – for the coupons. In addition to the coupons, I look forward to reading the magazine each month – easy recipes, money saving tips, reader tips, and MORE!
I'm helping local organizations in my area by offering you a fabulous deal on ALL YOU magazine. This is truly the best deal around. For $30, you will receive 24 issues of money saving coupons from ALL YOU magazine. That is less than $1.25/issue.
Your savings with the valuable coupons each month will be well over $1.25. Recently, there was a free product coupon ($8 value). I love my ALL YOU magazine coupons!
How many times have I said how much I love All You magazine? Dozens if not hundreds, I'm sure. If you haven't subscribed yet, I have a fantastic offer for you: 24 Issues for just $30. This is a mere $15/year for this fantastic magazine full of money saving tips and best of all COUPONS!
Plus, on top of that, 40% of the sales will go directly to support a local organization (I change this every couple of months)! Any support you can give while saving yourself a little money would be greatly appreciated.
Please support our local organizations with this FABULOUS deal on All You magazine. 24 Issues for $30 breaks down to $1.25/issue. Recently, there have been FREE product coupons as well as many high dollar coupons in this magazine.
What are you waiting for? Subscribe today!
Here's how:
Use this specific link: All You Magazine Fundraising Link
Click on "View all Selections" under the magazines pictures.
Type All You in the search bar in the right hand corner of the website.
Click on the All You magazine picture and follow the directions to check out.
You should receive your first magazine in 8-10 weeks.
Thanks!