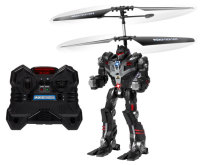 Get this RoboCombat GYRO Laser Tag Battle Electric RTF RC Helicopter for $21.99 (List $75) + $4.99 shipping.
Play Laser Tag in the air with the RoboCombat GYRO Laser Tag Battle Electric 2.5CH IR RTF RC Helicopter! Great for people of all skill levels, the RoboCombat features a coaxial rotor an adjustable leg position system that adjusts movement speeds for increased stability whether flying or hovering. This RC helicopter has a strong body making it light weight so you don't have to worry about breaking anything when you land it a bit too rough. It can go forward, up, down, left, right and hover! This product is ready to fly, there is no assembly required. The coolest part of this RC Heli is the IR Laser Combat System that you control from the Transmitter! Pick up multiple RoboCombats and have a Laser Tag air battle of your own!
Want to save loads of money this holiday season? Find the latest holiday deals I've posted about. You can also check out the Hot Holiday deals,  Giveaways, Online Coupon Code Database, and my Holiday Gift Guide. These pages are being updated often.