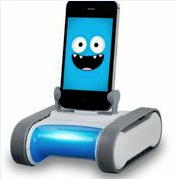 So this little robot is super cool! ROMO is a personal robot that uses your iPhone as his brain and is designed for children ages 8 and up.  Your ROMO will have his/her own personality and will react to the people and events around him.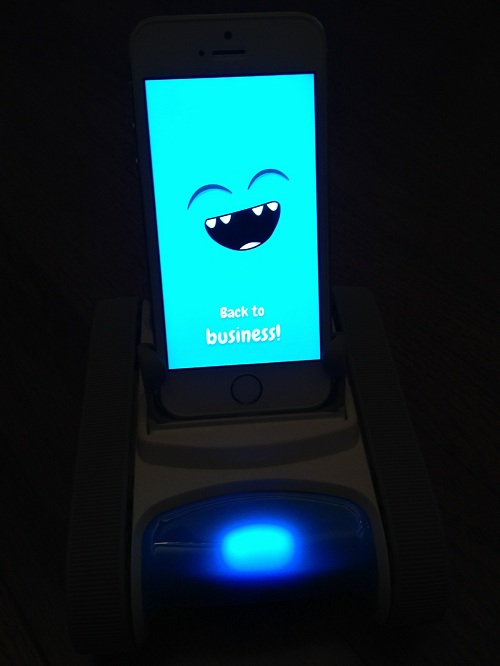 This would be a great gift for someone with an iPhone.  First you will need to download the FREE Romo App in the iTunes Store. Then you will attach your phone to your ROMO. It will ask your name and you will type it in, then you will name your ROMO. My kids decided on ROMOBOT for ours. Then you start training your ROMO. The kids are having a blast playing with it!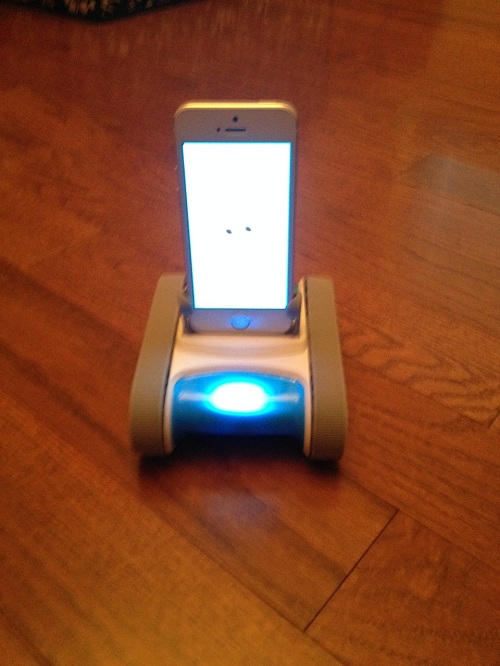 Features: 
Your personal robot – ROMO has his own personality and will react to people and events around him
Train your ROMO – Complete programming missions to unlock new abilities and features
Learn as you play – Learn ROMO 's amazing story as you complete missions designed to teach the basics of computer programming
Object follow – ROMO can learn to magically follow certain objects – throw a brightly-colored ball and he'll chase after it!
Face detection – ROMO can track and follow your face
Path tracking – ROMO can detect and follow tracks and paths that you create for him
Wi-Fi Control – Control ROMO using any iOS device over a Wi-Fi network
Telepresence – Control ROMO from anywhere in the world while streaming two-way video and audio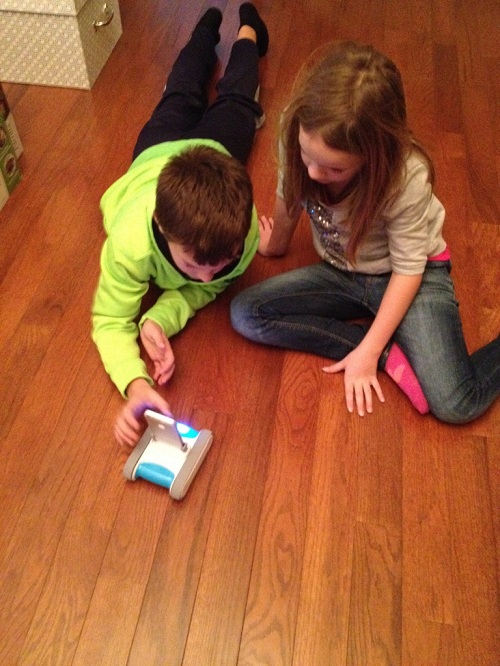 Cons:
Depending on your protective case for your phone, you may have to take it off.
This makes me nervous to take off the case with such an expensive phone. It will work with iPods but the one we received was for a 5 connection, which means I couldn't use one of our iPods with it.
Not many instructions included…just a quickstart guide. I guess the kids are figuring it out!
ROMO, $149, is currently available for iPhone 5, iPhone 5S, iPhone 5C, iPod touch (5th generation), iPhone 4, iPhone 4S and iPod touch (4th generation) at Brookstone, Brookstone.com and Romotive.com.
Watch more here:
Read more reviews from Bargain Briana or at the Buzz by Bargain Briana.
Products were provided in order to facilitate this review . Post was written 100% by me and was not edited by the sponsor. Read more on my Disclosure Policy.