Many of you may only thing of containers when you think of Rubbermaid. In the past I've associated Rubbermaid with storage containers but they have so much more including bathroom cleaning tools. With the bathroom cleaning tools line, Rubbermaid gives you a solution for every bathroom cleaning issue.
While it is the most frequently cleaned room in the house, it is the least favorite room on everyone's list to clean. Most of us use sponges or towels or both and try to clean hard to reach areas in the bathroom while juggling and spraying our cleaning supplies all at once. This makes bathroom cleaning very frustrating. Luckily, Rubbermaid has made cleaning the bathroom easier by providing several clever solutions to these issues with its new line of bathroom cleaning tools.
Here's a few of the solutions you will find:
Extendable Scrubber
The Rubbermaid Extendable Scrubber is a wonderful solution for those hard to reach places. The pole extend 24 – 40 inches but the head is also detachable for jobs you need put more arm work into. It also works with switchable pads for different types of cleaning jobs. Suggest retail price is $14.99.
2-in-1 Scrubber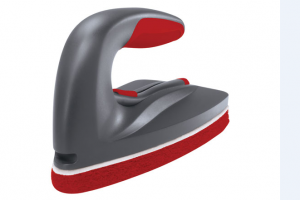 The Rubbermaid 2-in-1 Scrubber is a great detail brush for cleaning small areas and tight crevasses such as faucets, grout, and shower door tracks. The shower door track always gets so icky in our shower but this tool makes it a snap to clean. It also works with switchable pads for different types of cleaning jobs. Suggest retail price is $8.99.
Flexible Scrub Brush
The Rubbermaid  Flexible Scrub Brush is an all purpose scrub brush that flexes to reach hard to access areas such as the curves and contours of your shower or counter. You can lock into flat position for easy cleaning in open spaces. This is a great scrubbing brush. Suggested retail price is $8.99.
Switchable Pads
What is really cool about the Rubbermaid Switchable Pads is each pad fits three different Rubbermaid scrubbers so there isn't a need to buy different pads for the different scrubbers. There is a variety of pads to give you flexibility in your cleaning surface such as scouring pad, sponge, bristle brush, and disposable pad. The suggested retail price is $3.99 – $4.49.
These products are currently only available in the United States but will be coming to Canada in the future. You can purchase these Rubbermaid products directly from Rubbermaid.com or you can purchase them at The Home Depot, Walmart, Meijer, or Target.
How to Win?
Enter via the Rafflecopter Form below!
Giveaway ends on July 26, 2012.
Winner will be chosen by random. Be sure bargainbriana@gmail.com is in your safe sender list as you don't want to miss the email if you are the chosen winner. Winner must respond to email within 48 hours or a new winner will be chosen. U.S. Entries only. Alternate entry: Mail a postcard with the giveaway you are entering along with your name, address, and email to PO Box 14, Tipton, IN 46072.
**Please note: The companies have 6-8 weeks to ship prizes.
This giveaway was sponsored by Rubbermaid. This Post was written by me and was not edited by the sponsor.  Read more on my Disclosure Policy.
You can enter again on each blog participating in this giveaway:
See the rest of the Giveaways!