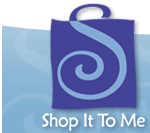 Think of Shop It To Me as your own personal shopper. You select your favorite brands and size and Shop It To Me will scour the internet to find you the best deals at all the leading retailers. You can choose to have these Shop It To Me Sales Alerts sent to you daily or weekly.
Another reason to try this out: For every 10 friends you refer who signs up for this completely FREE service, you will earn a $10 gift card to Ann Taylor, Banana Republic, Bloomingdales, Gap, J Crew, Macy's, Nordstrom, Starbucks, or Urban Outfitters.  Want an invite? Contact me via bargainbriana@gmail.com.
I had found this version hard to use because I don't have specific brands I prefer. Usually, I just prefer ya know, whatever is the bargain. So I was excited when I heard about Sale Spot, which tracks all your previous Salemails and allows you to filter by different categories.
Here'a quick overview of Sale Spot:
Sale Spot (www.shopittome.com/sale_spot) is a website that includes the results from all of your Salemails, both past and current.
It's perfect if you're looking for something specific
Filter by brand, clothing type, and more.
You can visit Sale Spot to check your personal sale items at any time.
You can even add new brands to your preferences and see updated results instantly.
As always if you are shopping online, make sure to shop through EBATES as you will receive % back! If you don't know about EBATES, you can read my previous post about this cash back site HERE. (Note: Currently EBATES is having a $5 bonus just for signing up and making your first purchase with them!)