This post is sponsored. All opinions are my own.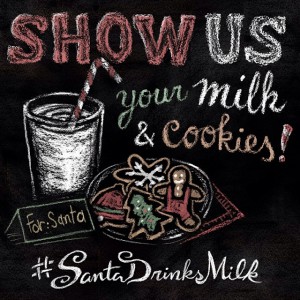 Are you excited about the holidays? Do you have your milk and cookies ready? The American Dairy Association Indiana has a fun contest starting on Christmas Eve. Many of you will already be sharing your milk and cookies pictures so it will be super simple for you to enter the Show Us Your Milk & Cookies.
Here's How: 
On Wednesday, December 24, 2014, share your Milk & Cookies pictures via Twitter, Instagram, or Facebook using the hashtag #SantaDrinksMilk to be entered to win a $250 Amazon.com Gift Card.  (Be sure to tag @INDairy)
Starting on December 26, 2014, log on to WinnersDrinkMilk.com where the three most creative #SantaDrinksMilk submissions will be featured for votes.
Vote between December 26, 2014  – January 1, 2015  for your favorite "Show Us Your Milk & Cookies" entry as many times as you would like. The entry with the most votes will win a Colts football signed by Colts Quarterback Andrew Luck and 20+ of his teammates! Super cool!
Check out the complete rules over at the WinnersDrinkMilk.com website.
Feeling lucky? Check out a list of Sweeps and Instant Win games I recommend!