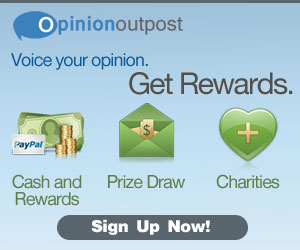 Do you like to make extra cash for taking surveys? If so, check out Opinion Outpost today as they are looking to find out what customers and citizens think about the products and services they use.
Top 10 Reasons to try Opinion Outpost today:
They are part of Survey Sampling International, a well-established global research group. This means quality surveys from quality companies.
Last year, their company sent out 29+ million surveys (a whole lot of opportunities).
They are one of the few companies that offer desktop (laptop), mobile, land-line phone, and tablet surveys. They can reach you where you want them to.
They have much lower "cash out" requirements that most survey companies.
10 points equals $1.00 U.S. dollar. You can cash out when you get 50 points for a $5.00 Amazon card, or 100 points for a $10.00 Paypal payment.
If you start now, and wait until Christmas time to cash out, you'll have a nice "nest egg" for holiday shopping.
They work with the top consumer brands and retailers, so there's a chance you could get invited to be part of a custom panel or community, offering easier and more frequent opportunities to earn rewards.
If you are accepted (and accurately fill out your profile), you will find it easier to qualify for future surveys.
Even when you don't qualify for a survey, they will enter you in their yearly sweepstakes (which could be even better)!
Opinion Outpost does NOT sell any of your personal information, nor do they every try to sell you a product. They only want your opinion.
Find the other survey companies I recommend by checking out How to Make Money with Surveys.