As part of the pantry clean out, I decided to make it my mission to use ingredients in our pantry to reduce our stockpile as part of my pantry challenge. Getting this pantry organized will not only help save time but help save money as we will actually know what we have in our pantry.
Ever since I re-discovered the almost 10 cans of canned pumpkin from our stockpile, I've been wanting to try my hand at pumpkin ravioli. I had a delicious pumpkin ravioli in California earlier this year and I've been wanting to try my hand at it. I couldn't find a recipe online that fit everything I wanted in my pumpkin ravioli. I won't bore you with the thirty minute discussion on how I decided on these ingredients. My mom did get the long story and well, she loves me no matter what and I don't think ya'll love me as much as my mom so I'll spare those unnecessary details.
This recipe was super simple and I was able to make it using things we already had in our refrigerator and pantry! I skipped the difficult step of making my own pastry by using the the wanton wrapper cheat. Except when I had purchased the wrappers last week, my grocery store didn't have wanton wrappers. They only had egg roll wrappers, which are quite a bit larger. All I did to adjust this was cut them in four parts.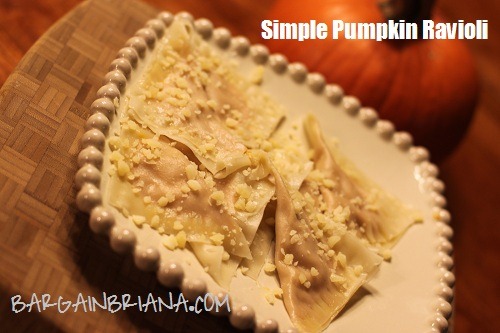 Next up, I wanted a creamy yet flavorful recipe. I couldn't find a recipe online that met these requirements so I decided to create my own by using some of the basic ideas from several other recipes I found online. I love the combination these ingredients create as it is warm yet creamy with a hint of spice in it!
Print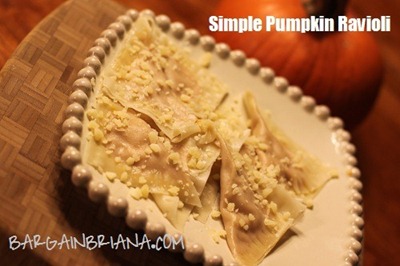 Simple Pumpkin Ravioli
---
2 Tablespoons

Land 'O Lakes Olive Oil Margarine

1/4 teaspoon

cumin

1/4 teaspoon

pumpkin pie spice (if you don't have this you can do a mix of cinnamon and nutmeg)
salt & pepper to taste

1 cup

canned pumpkin

1/4 cup

cream cheese

1

package wonton wrappers (or egg roll wrappers like I used!)
olive oil (optional)
fresh parmesan cheese, grated (optional)
---
Instructions
Melt butter in a sauce pan.
Add cumin, pumpkin pie spices, salt, and pepper.
Add pumpkin and cream cheese. Stirring until well mixed and warm.
Put small amount of mixture in your wanton wrappers.
Fold to make triangle.
Brush edges with a small amount of water.
Use fork to seal edge.
Bring a pot to soft boil.
Bowl your ravioli for 2-3 minutes.
Remove with a slotted spoon.
Toss with a small bit of olive oil (optional) and top with freshly grated parmesan cheese.
Enjoy!
---
Recipe Card powered by
Here's what they looked like before I boiled the ravioli.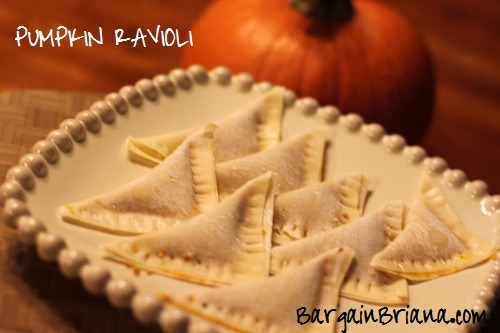 I'll be sharing more of our pantry challenge photos, recipes, and ideas in the coming weeks! Stay tuned….