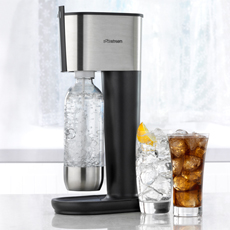 SodaStream Review
Do you consume a daily soda?  Did you know that purchasing just one 32-ounce soda per day can cost you up to $420 per year?  That's a car payment, college rent, a heat bill, gas in the tank or spending cash!  That's the cost before adding travel and precious time costs.  If you are looking to cut costs this holiday season, the answer may be in your soda consumption.  Here's a breakdown of the costs associated with fountain drink spending:
Local Gas Station – $0.85 per 32oz Fountain Soda
One Week:  (1) $5.97  (2) $11.90  (3) $17.85
One Month: (1) – $23.80  (2) $47.60  (3) $71.40
One Year: (1)- $285.60  (2/day) $571.20  (3) $856.80
Local Competitor – $1.25 per 32oz Fountain Soda
One Week: (1) $8.75  (2) $17.50  (3) $26.25
One Month: (1) $35.00 (2) $70.00 (3) $105.00
One Year: (1) $571.20 (2) $840.00(3) $1,260.00
If you aren't ready to give up your fountain drink habit altogether, a cost-wise solution could be the
SodaStream
.  I first tried the SodaStream at BlogHer 2012 in New York City in early August.  I noticed just a small difference in the taste of the sodas and was largely impressed with how tiny the actual machine was.  With over 60 flavor varieties, you're sure to find your drink of choice- or even discover a new one with the SodaStream!
SodaStream 
We tried our SodaStream at my Grandma's Thanksgiving yesterday and I was surprised by how easy it was to assemble and make!  I was counting on this to be a sort of entertainment project, but it only lasted a few minutes.  Of course, a Purdue alum, doctorate student, and master's degree holder were the ones to take over assembly, but I think anyone could have put it together.  Once it was set up (less than 10 minutes) it was even easier to create the drinks.  Special thanks to my family for participating!
First, we tried diet lemon iced tea.  It was decent.  Then we tired Dr. Pete.  Dr. Pete tasted just like Dr. Pepper!  After that we made Cola and it tasted just like RC-Cola. We later tried Ginger Ale and may have added a spiked ingredient to the mix- it tasted great!  Then Julian, 12, made Cranberry-Raspberry.  She wasn't too fond on the drink, but the adults and I liked it.  Lastly, Julian mixed Lemon-Lime and Cranberry-Raspberry and she said that tasted great.  Overall, we felt like scientists and enjoyed using our SodaStream!
My final thoughts on the SodaStream:
Easy to use
Great for kids or grandparents
Great for Condo's or RV's
Good for mixed drinks
Tastes like off-brand soda – mostly good
Saves money & time
Entertaining, somewhat
Slim for easy fit in the kitchen, sharp design
Less calories per serving
Decent alternative to fountain drinks
Tons of different flavors, mix & match opportunities
Have you tried this product?  Recommend it?  Order your SodaStream at: 
SodaStream Genesis Black Sparkling Water & Soda Maker 3-pc.
 $99.95!
This post was sponsored by the Soda Stream company.  Products were provided to compensate this post.  Rest assured, this Post was written by me and was not edited by the sponsor. Read more on my 
Disclosure Policy
.