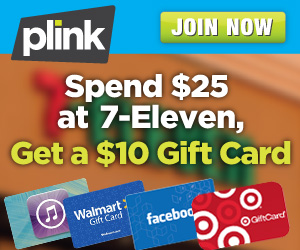 Grab your FREE 7-Eleven Slushy today and fill up your gas tank to get $10 back!
This is for **new members** only. Sign up for Plink today, make a $25 purchase at  7-Eleven by Sunday, 7/21/2013 11:59 EST, and you will get 1,000 Plink Points – enough to redeem for a $10 Gift Card of your choice at places like Amazon.com, Target, Walmart, Kohls, Starbucks and more!
Offer Specifics:
New Plink Members only, 

one sign-up bonus per person

Valid for in-store and gas related purchases

Plink Member must link a credit or debit card and make a $25 min purchase at 7-Eleven by Sunday, 7/21 11:59 EST

Purchase is necessary (after the member links a credit/debit card to their Plink account) to qualify for the bonus 1,000 Plink Points by Sunday, 7/21 11:59 EST

Bonus 1,000 Plink Points will be awarded within 7 business days of the transaction posting date.

7-Eleven purchases that occur on 7/22 or later will not qualify for the bonus.
I took advantage of the McDonald's offer a few weeks back and I am happy to report, I received my $10 gift card within a week!