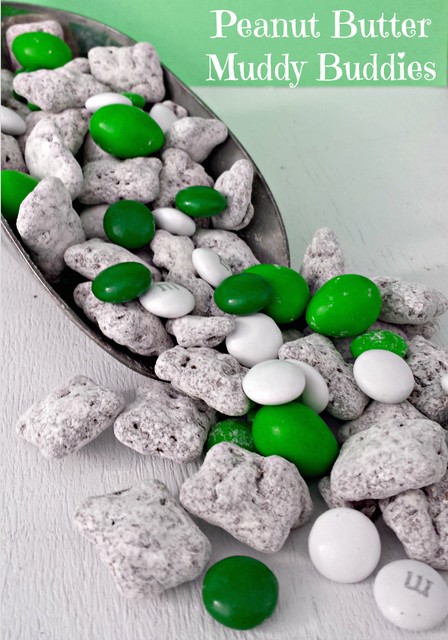 Every holiday needs their own special Muddy Buddies recipe. St. Patrick's Day is no exception. Make these Peanut Butter Muddy Buddy for a yummy treat and you can customize for any holiday. Visit a specialty candy store, or order online to buy M&M candies in specific colors.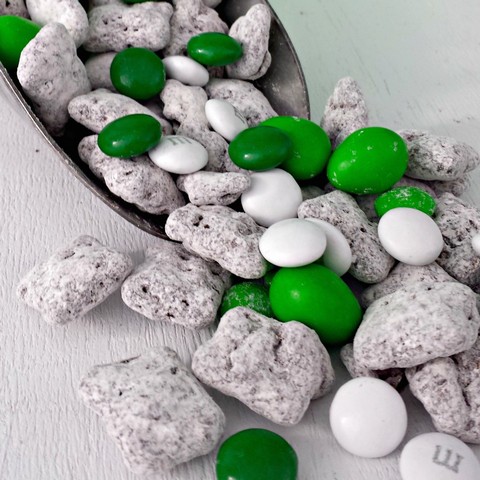 St. Patrick
Ingredients
9 cups Chex cereal
1 cup semi-sweet chocolate chips
½ cup peanut butter
¼ cup butter
1 teaspoon vanilla extract
1-1/2 cups confectioners' sugar
⅓ cup green Almond M&M candies
⅓ cup each dark and light green and white M&M candies
Instructions
Measure the cereal into a large bowl and set aside. Line a baking sheet with wax paper and set aside.
In a microwave safe medium bowl, microwave the chocolate chips, peanut butter, and butter for 1 minute, then stir. Continue microwaving in 30-second intervals, stirring in between.
Pour the mixture of the cereal and gently mix until the cereal is all coated.
Transfer the mixture to a 2-gallon ziplock bag and add the confectioner's sugar. Seal the bag and shake until all the cereal is coated.
Spread the cereal out onto the baking sheet to cool. Sprinkle M&M candies throughout the cereal.
Store in an air tight container.
View the Recipe Index for a complete list of recipes. For the most recent vegetarian recipes posted on the blog, go here. To view all the recipes post on the blog, go here.