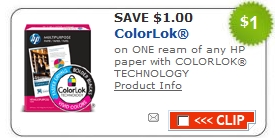 You can get FREE paper at Staples! Great to print out those coupons. Here's How:
HP ColorLok Copy Paper – $5.99
Submit for $4.99 Easy Rebate when you buy 1 (Limit 2)
$1/1 HP Paper With ColorLok Technology
Final Price after Rebate: FREE
Staples Easy Rebates are easy and can submitted online. You will receive your rebate within 4-6 weeks.
Thanks, Moms Need to Know!