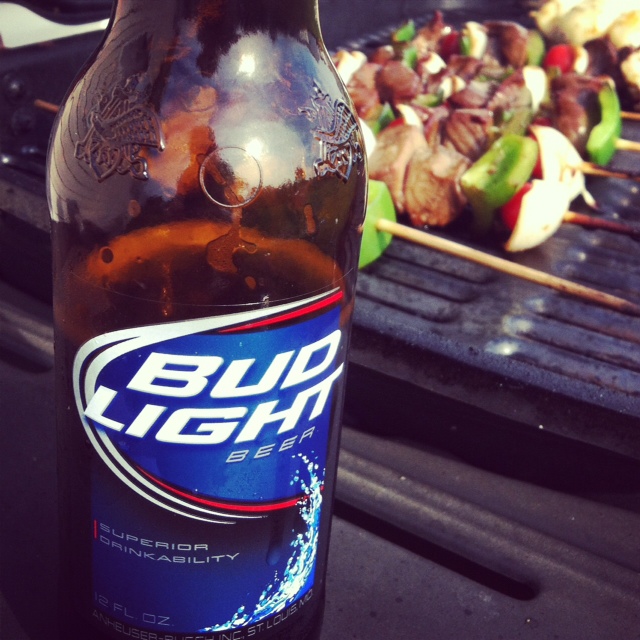 I gotta question – why does beer go hand and hand with grilling?!? Anyhow, whatever the answer you can't go wrong. Fire up the grill this weekend with this Steak Kabob and Basil Potatoes…be sure to make a little extra because they'll be gone in no time!
Now for the steak on this, purchase whatever is on sale! You can use flank steak, cubed steak, a sirloin that cut into bit size pieces, whatever the butcher has on hand that doesn't cost a arm and a leg.
*Serves 4
Steak Kabobs
1-1 ½ lbs Steak

1 onion, quartered

1 c cherry tomatoes

2 bell peppers (again whatevers on sale!)

1-2 c Dale Sauce. Low sodium – found by ketchup and hot sauce

8-10 skewers (if wooden, soak in water for at least an hour so they don't burn)
Start your kabob off with a onion, bell pepper or tomato. Why you ask?!? This tends to keep everything in tack when you are putting them together and ensures the meat doesn't fall down into the grill.
Alternate your ingredients – tomato, steak, bell pepper, onion. If you happen to have more of one ingredient feel free to double it up! Place the finished skewers in a baking pan. Drizzle the Dale Sauce over the kabobs and marinate in the refrigerator for at least 3 hours. Cook for 5-6 minutes on each side and remove (you may want to cook longer if you like your steak well done).
Basil Potatoes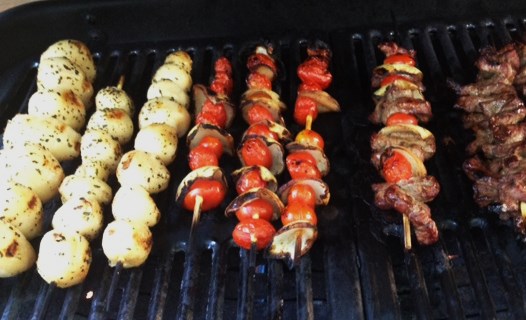 2 cans whole new potatoes
2 tsps olive oil
pinch kosher salt
6-8 leaves fresh Basil, finely chopped
4-5 skewers
Before you are ready to grill throw the Basil Potatoes together. This is super easy! Rinse the new potatoes and place into a bowl. Drizzle olive oil and ensure all the potatoes are coated nicely. Next stir in the salt, pepper and basil. Place the potatoes on the skewers and place on the grill 5-10 minutes before the steak kabobs. You'll cook on the grill for about 15-20 minutes until a light golden brown.
We often serve this dish with rice or corn on the cob if we are feeling motivated. These recipes are both  summertime hits with the entire family. If you are needing something cheap and easy for a backyard bbq through these recipes together for a meal your guests will never forget.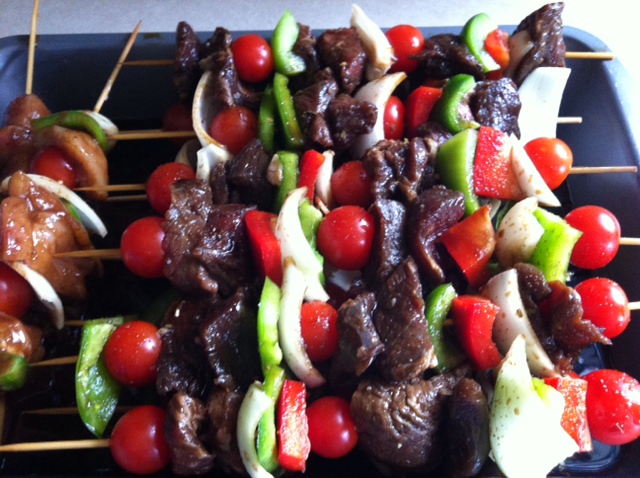 View the Recipe Index for a complete list of recipes. For the most recent vegetarian recipes posted on the blog, go here. To view all the recipes post on the blog, go here.