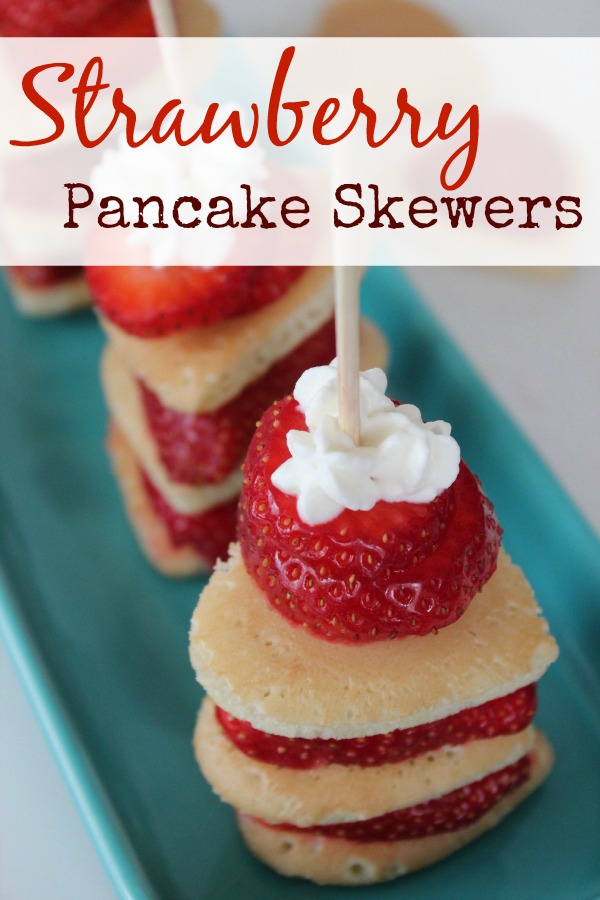 I don't know about your kids, but my kids love pancakes. And what better way to start your Valentine's Day off right than with this adorably yummy Valentine's Day treat? Strawberry Pancake Skewers are a staple Valentine's Day food in our house, and they will be in your house too once you try them!
Don't be scared by the idea of making your pancakes from scratch, either. I've been making my own pancakes from scratch for a couple years now, after I found out how easy they are to make!
Of all of the skewer recipes I've made over the years, this Strawberry Pancake Skewers is still one of my favorites. I mean, really, what can beat a sweet and sticky pancake kabob? This Valentine's Day treat is sophisticated enough to make for friends or your significant other, but it's also fun enough to make with the kids too. Honestly, it doesn't matter who you're making these pancake kabobs for–just make them! :)
If you're running low on time, you can always use a box mix for the pancakes, skip cutting the pancakes into hearts, or use Redi-Whip instead of beating your own, but one day a year, on Valentine's Day, when I really want to go above and beyond, I never seem to mind the work too much. And the scrumptious homemade pancake taste these Strawberry Pancake Skewers offer is totally worth the small amount of work they require.
Strawberry Pancake Skewers
Ingredients
8 oz Strawberries
Pancakes:
1 cup Flour
2 tbsp Sugar
2 tsp Baking Powder
1 tsp Salt
1 beaten Egg
1 cup Milk
2 tbsp Vegetable Oil
Whipped Cream:
1 cup Heavy Whipping Cream
2 tsp Sugar
Instructions
Wash and hull strawberries.
Slice into heart shaped slices and set aside.
Whisk together flour, sugar, baking powder and salt.
In a separate bowl whisk together milk, egg and oil.
Add wet ingredient to dry and mix until smooth.
Heat a lightly oiled griddle or pan over medium high heat.
Pour 1/4 cup batter onto the griddle for each pancake.
Brown on both sides.
Use a heart shaped cookie cutter to cut out shapes.
Whip cream and sugar until stiff peaks form.
Transfer to piping bag.
Alternate pancake slices and strawberry slices and top with additional stawberries and secure with a skewer.
Top with whipped cream.
More Valentine's Day Tips and Money Saving Ideas here!
View the Recipe Index for a complete list of recipes. For the most recent vegetarian recipes posted on the blog, go here. To view all the recipes post on the blog, go here.