This is a Sponsored post written by me on behalf of Sunkist S'alternative for SocialSpark. All opinions are 100% mine.
Do you know how much sodium you are consuming daily? Do you know how much you should be consuming? Take the Sunkist Sodium Quiz on Facebook to see where you measure up on the sodium scale and learn new tips on how to use Sunkist lemons as a healthy sodium-free alternative to salt.
I took the quick and fun quiz and discovered I'm a Shake & Baker!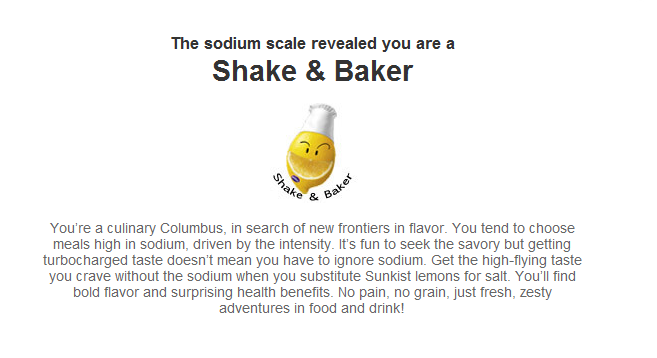 Sunkist S'alternative is a fun alternative to salt! S'alternative is using fresh-squeezed Sunkist lemons as a healthy alternative to salt. Using Sunkist lemons as a alternative can help reduce sodium, increase potatssium, and enhance the flavor or recipes.
Sunkist Lemon Seafood Paella
Ingredients:
32 oz Low Sodium Vegetable Broth
1 cup dry white wine
1 teaspoon saffron threads
1 lb of firm, fresh pieces of whitefish such as tilapia, bass, halibut, and swordfish, cut into 16-21 pieces
1 lb or 16-21 mussels, cleaned and de-bearded
1 lb or 16-21 medium size clams, rinsed
1 Cup chopped fresh parsley
3 Sunkist lemons, zest and juice
3 Tablespoons Olive Oil
1 cup minced onion
1 teaspon crushed red pepper
3 cups uncooked short-grain rice such as Valencian, Arborio, or Calrose
1 cup frozen green peas
1 8 oz jar of sliced roasted red peppers
Instructions
To prepare broth, combine all the ingredients in a saucepan. Bring to a simmer (do not boil). Keep warm over low heat.
To prepare paella, heat 3 tablespoons olive oil in a large paella pan or large skillet over medium heat. Add fish pieces to pan and saute 1 minute. Remove fish from pan, reserve and keep warm. Add onion to pan and saute from 5 minutes. Add the lemon zest, garlice, and crushed red pepper and cook for 5 minutes. Add rice and cook 1 minute longer, stirring constantly. Stir in broth, bring to a low boil and cook 10 minutes, stirring frequently.
Stir in peas and red pepper slices. Add mussels and clams to pan, nestling them into rice mixture. Cook 5 minutes or until shells open; discard any unopened shells. Stir in the reserved fish and chopped parsley and cook 5 minutes. Remove from the heat, stir in lemon juice, and check for seasoning. Cover with a towel and let stand for 10 minutes before stirring.
Do you use lemons as a S'alternative? How do you use it as an alternative?