Savings.com just announced the 2011 Deal Pros. I'm happy to say that BargainBriana.com made the list! Savings.com is very passionate about helping people save money. I love to help people save money so it's a perfect fit.
You may have noticed the Savings.com Pledge on my Facebook Page. This is a exciting campaign to help consumers save ONE BILLION dollars in the next year. Yep, that is correct One Billion dollars. Savings.com has already helped users save $150 million dollars.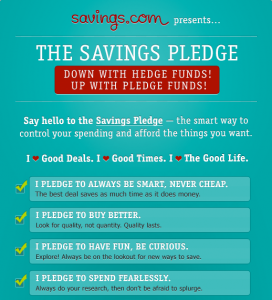 By taking small steps, you can take control of your spending and save towards a special goal. Pledge anywhere from $5 – $50 or more per week to get started. Save on things you need, so you can spend where you want.  As an incentive, if you take the Savings Pledge, Savings.com will be offering you exclusive deals and offers.
Follow the Savings.com Blog and @Savings on Twitter for money saving tips and advice. I will also be sharing more tips to save!