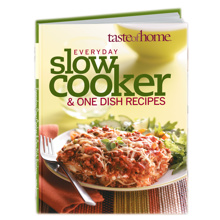 Taste of Home is having their $5 Cookbook sale, which means a fabulous deal on a number of cookbooks. I've listed just a few of the titles available below.
Taste of Home Christmas 2009
Everyday Slow Cooker & One Dish Recipes
2009 Healthy Cooking Annual Recipes
2008 Taste of Home Holiday and Celebrations Cookbook
Pasta Cookbook
The Market Fresh Cookbook
One Dish Meals
Baking with Love Cookbook
Comfort Food Diet Cookbook
Church Supper Cookbook
5 Star Recipes
Contest Winning Annual Recipes 2009
Sign up for the Taste of Home email newsletter to receive a code for FREE shipping on orders $25 or more. Otherwise, shipping starts at $5.99.
This offer is valid through May 2, 2011 or while supplies last!
Earn 7% cash back when you shop Taste of Home through Shop at Home!