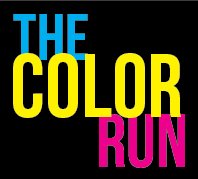 Have you done The Color Run in the past? I think it looks like so much fun. This is an un-timed 5K race in which you wear something white at the starting line and end up finishing plastered in color. No pressure since it is not timed and it is known as the Happiest 5K on the planet, celebrating healthiness, happiness, and individuality.
Join the 2014 Kaleidoscope Tour for fun in so many cities! When you register now, you can get $5 off your registration with coupon code COLOR5OFF to any city! (Not valid with any other discount or offer.) You must apply the coupon code at the time of registration and can't be retroactively applied so make sure you see the discount before checking out. PLUS, new t-shirts, new headbands, new wristbands AND awesome sling bags for everyone that is registered!!!
Now that the weather is starting to warm up, I'm excited to get outside and start running again! The treadmill has been fine for the cold, snowy days this winter but I really enjoy the outdoor run.

Want to save loads of money shopping online? Check out the latest online shopping deals.