Uh, oh. I've been hit with the Thirty-One products bug! Over the past weekend, my cousin invited me along to a Thirty-One party her co-worker was having. I've heard of Thirty-One but I didn't realize how affordable, cute, and functional the products are.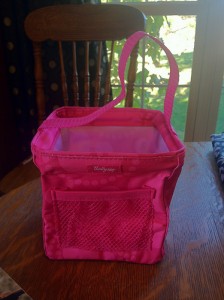 Since, I know many of you enjoy the products too, I'm hosting a online Thirty-One party (See below for more info). This month's special is a fantastic one. For every $31 spent, you can purchase a Carry All Caddy for just $1 (Retail $12). These are perfect for about anything – make-up, hair accessories, cars, legos – the possibilities are endless. One of the ladies at the party said they did a holiday ornament gift exchange each year and she was going to use this $1 Carry All Caddy for her packaging.
**If you are looking for a filler item to get to a $31 multiple, there are manicure nail files for $2, small rosette clips for $3, wristlets for $4, address labels/gift sticks for $5, or wristlet key fobs for $5.
There are so many products I've fallen in love with but the product I bought two of is the Large Utility Tote. I purchase one to use as my coupon class bag with "Bargain Briana" personalized on it. Then I purchased the cute evergreen tree large utility for the holidays. This tote has so many purposes: grocery shopping, a carry-all, gift toter, etc.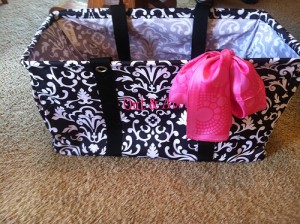 If you are shopping for gifts, which is what I **should** have been doing, the Cinch Sac is a great gift idea for any age. It would make a great overnight bag, sports bag, or swim bag among a few ideas I had. You can also personalize this bag for your loved one.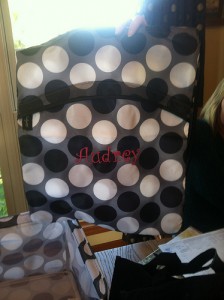 If you've ever had a crockpot spill in your vehicle, this is an idea you may want to try with the Square Utility Tote. Place your crockpot in it for easy travel.
I love the print on the mini-zipper pouch:
These adorable mirrors would make great stocking stuffers…
I love the touch of the hot pink small Rosette Clip on the Cindy Tote (Botanical Lace)
Would you like to order one of these stylish and functional items?
Here's How: 

Use this link for my consultant: http://www.mythirtyone.com/dbenefiel/ (I've known Dawn for a long time and she's super sweet and is a new Thirty One Consultant…so if you need a consultant or want to book a party, let her know!)
Then click on "Place an Order."
You will see "Bargain Briana" as a party option. Click on "Shop Now." You will need to click on "Shop Now" again on the next screen too.
Pick your items and checkout. Unless you live in Tipton, IN, please choose the ship to your home option.
Giveaway: 
Since, I love this stuff so much, I'm going to personally give away a Thirty-One Large Utility Tote ($30 value) to one lucky reader. Simply head over to Thirty-One and leave me a comment your favorite product! Also, let me know which color or print choice you would want for the Large Utility Tote if you won the giveaway. You don't have to order to enter.
**If I get 25 orders from the Thirty-One, I'll give away another Thirty-One Large Utility Tote ($30 value).**
Giveaway will end on November 18, 2011. Party will be open until November 19, 2011.
Winner(s) will be chosen by random. Winner(s) will be contacted via email. Winner must reply to the email within 48 hours. Open to U.S. Residents ages 18 and older. Void where prohibited and not valid in all states.
Alternative Entry Method: Mail a 3×5 Card with your Name, Address and Phone Number to P.O. Box 14, Tipton, IN 46072. Entry must be received by 11/20/2011.
This giveaway was sponsored by me. All opinions are my own. Read more on my Disclosure Policy.
Want to win more? Enter to win the rest of my current giveaways!